The Beauty & The Beast Triathlon Selects the Virgin Islands Special Olympics as a 2019 Race Beneficiary
February 20, 2019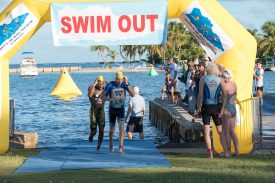 The Beauty & The Beast Triathlon on St. Croix made a name for itself last year when it donated over $30,000 to local nonprofits including the St. Croix Animal Welfare Center, My Brother's Table and the Community Centers for the Boys & Girls of the Virgin Island. The legendary race, headed by VI TRI, has built its foundation around community outreach and growth with all proceeds benefitting local nonprofits. The committee has announced that one of their beneficiaries for the 2019 race, scheduled for December 8th, will be the Virgin Islands Special Olympics. 
According to their website, the Special Olympics "provides year-round sports training and athletic competition in a variety of Olympic-type sports for children and adults with intellectual disabilities. Those activities give them continuing opportunities to develop physical fitness, demonstrate courage, experience joy and participate in a sharing of gifts, skills and friendship." Their mission aligns with VI TRI's focus to offer activities and support for all community members. Race director, Theresa Harper, said "The Virgin Islands Special Olympics is in dire need of support not only through volunteer efforts but also through funding. Their yearly main event draws over one hundred children and adults from the local community. VI TRI looks forward to helping the organization continue their efforts to create unforgettable events and lasting memories for those participating."  
An island rich in triathlon history, St. Croix has continued to provide a scenic and challenging race for athletes over its thirty years of hosting memorable events. This year's race will offer athletes their choice of participating in a long distance course, sprint course or a sprint aquathlon.  Relays are offered in the long-distance course and sprint triathlon races. 
VI TRI is not only giving back to local nonprofits, but also to athletes who can take advantage of 25% off registration fees when using promotion code "sharethelove" before February 28, 2019. For more information or to sign up for the 2019 race, visit www.virginislandstriathlon.com.