Team AMANI partners with Nix Biosensors to Improve Cycling Training for East African Cyclists
June 1, 2023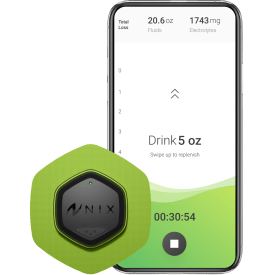 Team AMANI looks to Nix to help provide better hydration strategies and education for their athletes, four of whom have incorporated these strategies into training for Saturday's Unbound Gravel.
BOSTON, MASS — June 1, 2023 /ENDURANCE SPORTSWIRE/ – Team AMANI, the professional cycling development program in East Africa, has partnered with Nix Biosensors, a cutting-edge health biosensing company, to integrate the Nix Hydration Biosensor into their training regimen. By training with the Nix Hydration Biosensor, team members will create informed and accurate hydration strategies for themselves that will increase both their performance and safety in regards to health. Team AMANI works to decrease the hurdles African cyclists face in a society that typically provides fewer resources to athlete development than many Western countries. Nix is the latest key partner to introduce better training and racing opportunities and education to these athletes.
The Nix Hydration Biosensor is a groundbreaking device that provides real-time hydration data, empowering athletes to optimize their performance by monitoring their hydration levels accurately. The device uses advanced sensors to quantify both fluid and electrolyte losses, providing athletes with critical decision-support data on their fluid intake needs during training and competition. This information helps athletes avoid dehydration, optimize their training, and improve their overall performance.
"We are thrilled to partner with Nix and incorporate their innovative Hydration Biosensor into our training," said Mr. Jean Hubert Nkurayija, Director of AMANI Rwanda. "Hydration is a crucial factor in the performance and well-being of our cyclists, especially in the hot climate we often train in. With Nix, our athletes can now monitor their hydration levels in real time, helping them make data-driven decisions about their fluid intake and optimize their training for better results."
In addition to incorporating the biosensors into training, Team AMANI will incorporate hydration education through the The Spoke Academy, an initiative by Team AMANI that aims to identify and nurture young talent in Rwanda and provide them with the necessary resources and support to excel in cycling, both in their training and understanding of how to navigate the professional side of the sport.
"We are proud to collaborate with Team AMANI and support their training program," says Meridith Cass, CEO and Founder of Nix. "Our Hydration Biosensor is a non-invasive solution to empower athletes with real-time data on their hydration levels, helping them perform at their best. We look forward to seeing how Team AMANI's athletes utilize the Nix Hydration Biosensor to optimize their training and achieve new heights of success in the world of cycling."
In addition to long term success for the entire team, AMANI is bringing four athletes to Emporia, Kansas this week to race the legendary Unbound Gravel through the Flint Hills. The athletes competing are Jordan Schleck (Uganda), Geoffrey Langat (Kenya), Charles Kagimu (Uganda) and John Kariuki (Kenya). The four standout cyclists began incorporating Nix into their training routine earlier this season and have made notable changes to their hydration plans based on the data provided by the biosensor.
"The personalized data we received using the Nix Hydration Biosensor is unparalleled. With it we have designed custom hydration strategies for each athlete in preparation for Unbound that we never could have before," said AMANI coach Owen Searle. "Come race day we look forward to what we expect to be some of our best gravel racing to date."
Team AMANI and Nix's partnership is a significant step towards advancing the field of sports science in Africa and promoting the well-being and performance of cycling athletes. The integration of the Nix Hydration Biosensor into Team AMANI's Spoke Academy curriculum showcases their commitment to utilizing cutting-edge technology to improve athlete performance and ultimately achieve excellence.
About Team AMANI:
Team AMANI works to close the gap between the amateur and pro ranks for talented East African cyclists, and promote inclusive competitive cycling in East Africa and Europe. The organization aims to develop world-class athletes who can compete at the highest level of international cycling events. Team Amani's Spoke Academy identifies and supports young cyclists to achieve their full potential by providing them with comprehensive training, mentorship, and resources.
About Nix Biosensors:
Nix is changing the way humans manage health by empowering consumers to access, understand, and act on their personal biology in real time. Nix's first consumer product is a sweat patch that provides athletes, soldiers, and laborers with hydration data in real-time, helping them optimize safety and performance. Headquartered in Boston, Massachusetts, Nix is founded by CEO Meridith Cass, a graduate of Harvard Business School, former VC, and 9-time marathoner. Advisors include Tom Fowler, Former President of Polar; Dr. Bob Murray, Founder and former Director of the Gatorade Sports Science Institute, and Tatyana McFadden, the 5x Olympian and 17x Medalist. Learn more at nixbiosensors.com.
Media Contact
Mackenzie Lynch
360.319.3833