Sweatworks Makes Donation to Virginia Elementary School to Enhance Education through Technology
December 21, 2018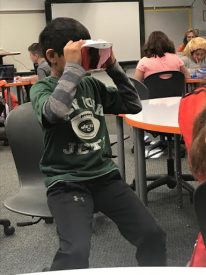 This holiday season not all presents will come under the tree. Elementary students at ​Steuart W. Weller Elementary School in Ashburn, Virgina have been given the gift of an enhanced learning experience through technology. Sweatworks, a design development agency for the fitness industry, donated $10,000 to the elementary school's "Innovation Lab."
"Students are curious, but also need curriculum connections to make the most of their explorations," ​said Julia Burton, Steuart W. Weller Elementary School's Principal. "​With this donation we ​were able to immediately provide tools that we would not have been able to afford."
The Innovation Lab is a place where students are encouraged to be be creative and collaborate. Within the Innovation Lab, students enjoy an open seating design and the chance to work together, build together and re-design together. When​ students are studying the solar system, they can use the virtual reality goggles to experience and simulate space exploration. Students in first grade are even using the Innovation Lab to code and create maps of their communities.
"The lab is used by classroom teachers and students to enhance the curriculum," said Burton.
With Sweatworks' donation the school was able to purchase a variety of technology items to engage students including ​bloxels, spheros, 3D modeling and an interactive panel for collaboration, creation and editing of student projects.
"We hope that the improvements made to the Innovation Lab inspires students and makes learning more engaging and fun for years to come," said Sweatworks founder and CEO, Mohammed Iqbal. "We believe in technology and its ability to improve our lives whether it's an app to track your run or a virtual reality experience that helps students understand the solar system. We are thrilled to be able to give back to the community in this way."