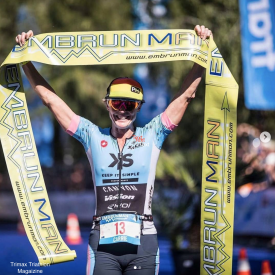 XRCEL Athlete Carrie Lester takes the win - even after suffering a crash on the bike.
Charleston, SC (August 20, 2018) – – XRCEL Athlete Fuel  congratulates its ambassador and KIS Performance Team coach Carrie Lester on her amazing win of Embrunman 2018 on August 15th. Carrie posted the best time to earn the top pro podium position. But it wasn't that simple…Carrie had to come back from a bike crash, gather her composure and dig deep, to best the competition.
"Carrie is one awesome athlete and dare I say one tough chick," said Fred Sexton President and Founder of New World Consumer Products. "Her physical and mental strength during this race was nothing short of phenomenal.  As we said in our last press release congratulating Carrie  and coaching partner Scott DeFilippis on their dual win of VentouxMan, 'when you combine heart, soul, and great training with the right fuel you get great results'."
"Embrunman is by far the hardest iron distance race I have done, and I keep going back because I simply love the challenge and the strength it gives me both physically and mentally. It can take an extra 2hrs over a typical Ironman course, and can also be very hot – particularly by the time we are off the bike and starting the marathon," said Lester. "The biggest mistakes you can make when racing for this long are not fueling correctly early enough and racing above your limits. I make sure I am well hydrated with a mix of water and electrolytes, and my main source of fuel is XRCEL. With its micro-gel formula, it works with my body temperature to maintain a constant energy state. I have minimal highs and lows – it keeps me going strong for the entire race. I am thrilled to have been able to win this epic race again! Thank you XRCEL for your support!"
"To call Carrie's performance amazing is an understatement! Her win at Embrunman, once again, proves Carrie's talent, dedication, and drive to be the most successful triathlete she can be. Not only did she win Embrunman, which rides through the tough terrain in the Hautes-Alps, but she did it after taking the win at VentouxMan and a hard-fought second place finish at Ironman France," said Laura DeMeo, Business Development Manager – Endurance Sports for Team XRCEL.  "Carrie continues to amaze me and I cannot wait to see her take her power, speed, and endurance to the Ironman World Championships in October. We are so proud of the top-notch performances Carrie continues to produce on race day!" 
About XRCEL® Athlete Fuel
XRCEL Athlete Fuel is a revolutionary extended release carbohydrate supplement formulated with patented pH and temperature responsive micro-gel technology developed by New World Pharmaceuticals, LLC.  XRCEL is a caffeine and banned substance free supplement designed to provide athletes with extended release muscle and brain fuel so that they may get the most out of their training and competitions. 
New World Pharmaceuticals is based in Charleston, South Carolina. For more information, please visit http://www.NewWorldPharma.com.
For More Information 
Media Inquiries:
Lisa Sexton
843.737.6192 Ext 104
Lisa@XRCEL.com