Strong Mountain Bike Pro Field Expected For 2nd Annual Pikes Peak Apex Presented by Rockshox
September 22, 2021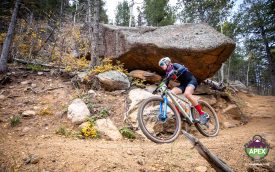 APEX Draws Olympians and National Champions Among Other Notable Riders Scheduled to Start the 4-Day MTB Challenge Thursday
Colorado Springs, CO /ENDURANCE SPORTSWIRE/ — Sports Strategies announces a strong professional field of racers for the 4-day mountain bike challenge on the slopes of Pikes Peak. $25,000 is up for grabs, split evenly between the men and women's top finishers.
The men's field includes reigning APEX Champion and Marathon MTB National Champ Russell Finsterwald from the Clif Pro Team.  EF Education-NIPPO is sending two of their pro riders, endurance legend Lachlan Morton and SBT GRVL winner Alex Howes who will definitely give Russell a run for his money.  Keegan Swenson, hot off wins at the Leadville 100 and the Breck Epic will surely figure into the race for the top step, but don't count out two-time Olympian Todd Wells and U23 standout Amos Riley, both from Durango, to get in the mix. Also, returning second and third place overall winners from last year, Robbie Day and Ryan Standish are sure to bring some serious competition.
The women's start list includes last year's second overall winner and Juliana-SRAM rider Evelyn Dong.  She will have her hands full with Argentinian Olympian Sofia Gomez-Villafane from the Clif Pro Team on the start line.  Keep a close eye on last year's surprising 8th place and RockShox employee Deanna Mayles as she makes a run for a podium spot.
Spectators are encouraged to come out for any of the stages, but Saturday will be a highlight as it will be held in conjunction with the APEX Outdoor Festival & Expo at America the Beautiful Park in downtown Colorado Springs. Kid's events, skills clinics, and a beer garden with food trucks will be free to the public starting at 7:30am.
ABOUT PIKES PEAK APEX presented by ROCKSHOX
The second annual Pikes Peak APEX presented by RockShox will be held September 23-26, 2021. This unique, four-day mountain bike challenge draws pros and amateurs for four days of riding on the slopes of Pikes Peak in Olympic City, USA. Riders experience exhilarating, exceptionally crafted routes through dirt roads, jeep trails and the amazing alpine singletrack that is quintessential Pikes Peak. The world-class event supports Trail Stewardship and drives economic impact to the area in order to improve the trails and open space in the Pikes Peak region for the lasting enjoyment of its residents and visitors. The APEX, a Pikes Peak Outdoor Recreation Alliance project, was developed and is operated by Sports Strategies, a division of Tourism Strategies, LLC. For more information about the event, visit www.pikespeakapex.com.
For media inquiries contact Micah Rice, Executive Director of the Pikes Peak APEX and VP of Event Strategy & Operations of Sports Strategies. Email mrice@sportsstrategies.com or call 719.283.7577.