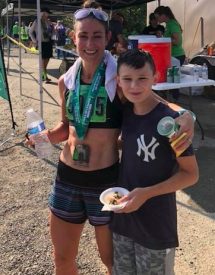 Mother of two wins first marathon since suffering a stroke in 2015
Stroke survivor Tia Accetta, 42, won the Jack & Jill Marathon on Sunday, July 29th in a time of 2:55:49, a new course record.
In her first marathon since suffering a cerebellum stroke after a long run in April, 2015, Accetta chose the low-key trail marathon in the Cascade Mountains as a test run.
"This marathon was a confidence-builder," she said.  "Before having a stroke, it was easy to test my limits.  But the stroke changed things.  After having a stroke, you don't know how far you can push yourself and be safe.  It took me more than three years to get to a point where I had the confidence to run a 20-miler in training, never mind actually run a full marathon."
The Jack & Jill Marathon (http://jackjillmarathon.com/) is a largely downhill marathon along the John Wayne dirt trail in the rugged Cascade Mountains east of Seattle. A unique feature of the Jack & Jill Marathon is the 2.5 mile train tunnel at the start of the race.  Running in the pitch dark with a headlamp, Accetta was in third place coming out of the Snoqalmie Tunnel in the Sunday marathon.
Accetta took the lead just before the half-marathon mark, held on through a rough patch at about Mile 22, and cruised to a 2-minute win.  "I've been running about 50 miles a mile a week, so I wasn't sure what to expect.  I had been hoping to break three hours, so this was a nice surprise."
The cause of her stroke is still unknown, though it is suspected that she suffered a dissection of the vertebral artery, one of the four main arteries to the brain, exposing the membrane that is prone to forming blood clots.  Accetta's recovery treatment was overseen by Dr. David Teeple, the Director of the Stroke Care Program at Tucson Medical Center.
"The stroke happened immediately after a long run, so it totally changed how I approached running. I was like a beginning runner, starting over from scratch.  The doctors had told me to be patient in testing my limits and it took me all these years to gain the confidence to push workouts.  I still haven't run high mileage, but now I think I can train harder."
With a marathon PR of 2:48:05, Accetta had harbored the dream of qualifying for the Women's Olympic Marathon Trials before the stroke.  The subject of a 2015 Runner's World article (https://www.runnersworld.com/news/a20853384/after-stroke-olympic-trials-hopeful-ponders-running-future), Accetta is hoping to run the California International Marathon in December 2018.
The mother of two young children, Accetta is an RRCA certified running coach who coaches athletes online and in Tucson, Arizona.
About Run Tucson: Run Tucson (www.runtucson.net) is a full service event and coaching entity producing running events in partnership with the Southern Arizona Roadrunners (www.azroadrunners.org).  With coaches certified by the Road Runners Club of America (www.rrca.org), Run Tucson manages Arizona's longest-running coached training group, the Workout Group.