Stages Cycling and LOOK Cycle launch a co-developed indoor Pedal system
May 1, 2023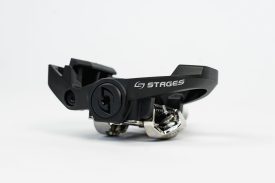 Boulder, CO, US /ENDURANCE SPORTSWIRE/ – Stages is launching a premium indoor cycling pedal system developed in collaboration with LOOK Cycle to bring to the market a best in class indoor specific pedal system. The new pedal system utilizes both Stages and LOOK patents and design expertise to bring indoor riders a pedal able to accommodate nearly every shoe used in gyms or home training. The SP4 is compatible with LOOK delta or SPD compatible cleats, or any athletic shoe when the Stages Platform Cage is utilized.
LOOK's extensive knowledge of clipless pedals ensured the new SP4 was designed with an axle designed to exceed previous design limitations and durability. These Made in France pedals were tested to exceed the rigors of gym or home indoor bike use, while giving the rider a pedal that can adapt to whatever shoe they chose to use.
Pat Warner, Stages Cycling's Senior Vice President of Product Development, said: "We are very excited to partner with LOOK Cycle, combining all their experience in making the highest quality pedals with our indoor technology to offer the most durable and adaptive pedal on the market."
Pierre-Jean Martin, Global Technical Director, LOOK Cycle, said: "LOOK has had rider requests for years from the indoor space. The indoor bike, especially in flywheel-based designs, has some unique pedal stresses and performance needs. This partnership gave us a chance to ensure the pedal we helped develop really addressed the market, while improving on the durability and quality of current offerings. We believe our 30+ years of making pedals translates into a truly better indoor pedal."
Key features
Dual sided pedal with LOOK Delta or SPD Compatible bindings
With the Stages Platform Cage the pedals can be used with any athletic shoe
Redesigned spindle for extra longevity
Optional Stages Platform Cage requires no tools for removal and is easily removed with spring-loaded hand lever
1 year warranty
Pricing and availability
The SP4 is sold as an accessory upgrade compatible with all Stages commercial studio bikes and the Stages SB20 Smart Bike. The new dual sided pedal is $120 USD or $165 USD for the pedal set with the Stages Platform Cage. https://stagescycling.com/en_us/stages-sp4-pedals
Press Contact
STAGES CYCLING PRESS OFFICE
Kate Hector
About Stages Cycling
Stages Cycling LLC, with offices in Portland, OR and Boulder, CO, launched the Stages Power meter in 2012, immediately making waves in the power measurement category. Stages has expanded into the commercial and home fitness categories with the SC3 commercial indoor cycling bike, with ground-breaking features designed to improve rider experience and increase durability. In 2016, Stages completed the outdoor power training ecosystem with Stages Dash, a performance GPS head unit, and the Stages Cycling app, a cloud-based training service, guiding athletes to their best performances on the road and indoors through easy analytics, education, and custom coaching. More information at stagescycling.com.
LOOK PRESS OFFICE
Jon Denham
SHIFT Active Media
jon.denham@shiftactivemedia.com
LOOK – The Art of Cycling
Inventor of the clipless pedal in 1984, the first carbon frame in 1986, LOOK has been racing and winning.
for 40 years. Its heritage and savoir-faire drive them to reinvent today's bicycle for tomorrow, while inspiring future generations to engage with their passion for cycling.
LOOK is a worldwide leader in cycling innovation and craftsmanship, with unequalled in-house experience in carbon design. An independent, historic, and iconic French company, LOOK's head office in Nevers, Burgundy is the cultural home of the brand and where all product design and development takes place.
"At LOOK, we see cycling as a complete 'art de vivre', where style and performance must pair to sublimate every rider's mindset. That is why we dedicate our historic savoir-faire to create unique bikes, wheels, pedals, and apparel, with a very French twist, for every cycling lover" says Federico Musi.
Alongside elegance and craftsmanship, LOOK's heritage continues to be defined by performance. On the road, more than 600 Grand Tour stages, 50 Jerseys, and 25 overall victories have been won by riders using LOOK pedals; while more than 100 Grand Tour stages have been won by riders using LOOK frames. A partner to Cofidis men's UCI WorldTour team, women's Continental Pro Team and UCI Paracycling Team, LOOK is also a partner to the French Cycling Federation since 1988 and technical partner to USA Cycling and its USA Track Sprint Program since 2022, LOOK operates both Team LOOK Criterium and Team LOOK Gravel, who face the most challenging fixie and gravel races around the world.
In mountain biking, cyclo-cross- and cross-country LOOK supports many riders and teams, while LOOK bikes and pedals are also ridden by globally recognised and champion triathletes. In the velodrome: 17 Olympic titles and more than 60 Olympic medals; 3 Paralympic titles and 8 Paralympic medals; 3 world records, more than 90 UCI World Champion titles, and more than 230 UCI World Champion medals have been secured by LOOK riders.
For more information about LOOK's products, visit www.lookcycle.com