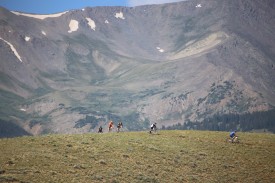 23rd annual event features stellar pro field and new live streaming during start and portions of race
Leadville, Colo. (Aug. 12, 2016) — On Saturday, August 13, nearly 2,000 riders will toe the line at on one of the world's most grueling ultra-races—the Blueprint for Athletes Leadville Trail 100 Mountain Bike (MTB) Race, produced by Life Time, The Healthy Way of Life Company. The internationally renowned Leadville Trail 100 MTB is a 100-mile 'Race Across the Sky' at elevations ranging from 10,152 to 12,424 feet through the Colorado Rockies punishing terrain.
Returning this year is 2014 defending champion Todd Wells (United States) and in the women's division, 2013 and 2014 champion Sally Bigham (Great Britain) returns as well. Also, professional road cyclists Joe Dombrowski (United States) and Ted King (United States) will be competing and raising funds for World Bicycle Relief. Additionally an array of other participants are racing to help others and raise awareness for organizations like First Descents, Phoenix Patriot Foundation, Ride 2 Recovery, and more. Leadville's own Ty Hall will be entered for the second year as Transamerica's Tomorrow Chaser to help raise money for the Leadville Legacy Foundation. As the Tomorrow Chaser, Hall starts at the back of the race and Transamerica donates $5 to the local foundation for every cyclist he passes. This will be Hall's 15th Leadville Trail 100 MTB race and last year, Ty raised $7285.
Also, racing this year for the first time, are ultra-running and Leadville Trail 100 Run champion Rob Krar and multiple time Leadville Trail 100 Run top finisher Mike Aish. Aish is vying for the Leadman 2016 title and will be competing in the 100 Run on August 20th as well.
Returning this year, portions of the race will be streamed live including the start, sponsored by Baker Marquart LLP. Viewers can tune in at Leadvilleraceseries.com/live before the start at 6:20 a.m. to watch the start at 6:30 a.m. and catch the excitement and pageantry of this iconic race as well as live updates throughout the race.
"Every year, competitors from across the country and around the world come to Leadville to push their limits and see what they are made of at this iconic race," says Josh Colley, race director, Leadville Race Series. "Seeing the pros attempt to smash course records to first-time competitors complete the race is something that inspires all of us to become a little stronger and improve our own healthy way of life journeys."
The entire pool of competitors will start the Leadville Trail 100 MTB at 6:30 a.m. on Saturday, August 13th.
12:20-1:30 p.m. when winners and top finishers are expected to cross the finish line in downtown Leadville.
3:30 p.m. 9-hour cut-off time for the gold and silver trophy buckle
6:30 p.m. 12-hour final cut-off time for completion of the race and the silver buckle
For more information and complete results visit www.leadvilleraceseries.com. For photos and race day updates visit the Blueprint for Athletes Leadville Race Series Facebook page. To learn more about Life Time Athletic Events visit www.EventsByLifeTime.com.
About Leadville Race Series
Started with only 45 runners as the Leadville Trail 100® in 1983, the Leadville Race Series now consists of six running events, the Leadville Trail 100 mountain bike race, and six mountain biking events in the Leadville Qualifying Series. The Race Series stretches across three months, and hosts thousands of racers on foot and on mountain bike in some of the world's most iconic events. Endurance athletes worldwide now make the pilgrimage to Leadville, Colo., with the single goal of competing in "The Race Across the Sky." Visit www.leadvilleraceseries.com for more information.
About Quest Diagnostics
Quest Diagnostics empowers people to take action to improve health outcomes. Derived from the world's largest database of clinical lab results, our diagnostic insights reveal new avenues to identify and treat disease, inspire healthy behaviors and improve health care management. Quest annually serves one in three adult Americans and half the physicians and hospitals in the United States, and our 45,000 employees understand that, in the right hands and with the right context, our diagnostic insights can inspire actions that transform lives. www.QuestDiagnostics.com.
About Life TimeSM, The Healthy Way of Life Company
Life Time is a privately held, comprehensive health and lifestyle company that offers a personalized and scientific approach to long-term health and wellness. Through its portfolio of distinctive resort-like destinations, athletic events and corporate health services, the Healthy Way of Life Company helps members achieve their goals everyday with the support of a team of dedicated professionals and an array of proprietary health assessments. As of August 2016, the company operates 121 centers in 26 states and 35 major markets under the LIFE TIME FITNESS® and LIFE TIME ATHLETIC® brands in the United States and Canada. Additional information is available at www.lifetimefitness.com.
# # #