Sportstats West acquires Pacific Sport Events and Timing
July 8, 2019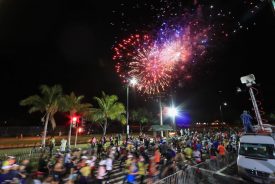 New majority ownership from Sportstats West boosts Sportstats World global race footprint to more than 1,000 races
Sportstats West has acquired a majority share of Pacific Sport Events, which will bring more than 100 new races under the umbrella of Sportstats World—easily the largest race timing company in the world. Sportstats West, led by Andre Yelle and Lindsay Burns, has been involved with the Honolulu Marathon since 2007—North America's fourth largest race, with more than 30,000 participants. They say the deal solidifies Sportstats and Sportstats West predominance in timing races worldwide.
"The Honolulu Marathon is a prestigious, bucket list race and we've enjoyed our mutually beneficial relationship, ensuring runners have accurate, reliable times," says Yelle, a veteran of the Sportstats team, who helped transition Race Headquarters to the Sportstats West office in Vancouver in 2012. "Pacific Sport Events does a great job in attracting runners, from the elites to the back of the pack, and with our brands working together under one roof, we expect even greater results along the Pacific. This is a big day, we believe, for our sport."
Pacific Sport Events & Timing supports sporting events with state-of-the-art finish line systems and custom event services for triathlons, running, cycling, swimming, surfski, outrigger canoes and paddle board events. Based in Waipahu, Hawaii, the company is the premiere solution for events on the islands. With Sportstats West acquiring a majority share in the company, there's room for growth in the Hawaiian outdoor sports field.
"We're seeing a global trend in that athletes will participate in numbers at professionally managed events," says Sportstats World CEO Roy, who has offices in San Diego, Thailand, Singapore, Vancouver, Florida, Salt Lake City, Grand Rapids and Ottawa, where he runs the company while competing in half marathons and IRONMAN events worldwide. "It's our intention to time as many of the biggest and best events as we can all over the world and with this purchase, we move a long way toward strengthening our global brand."