SPORTIME Clubs and Hornig Capital Partners Partner to Develop Pickleball Facilities
October 2, 2023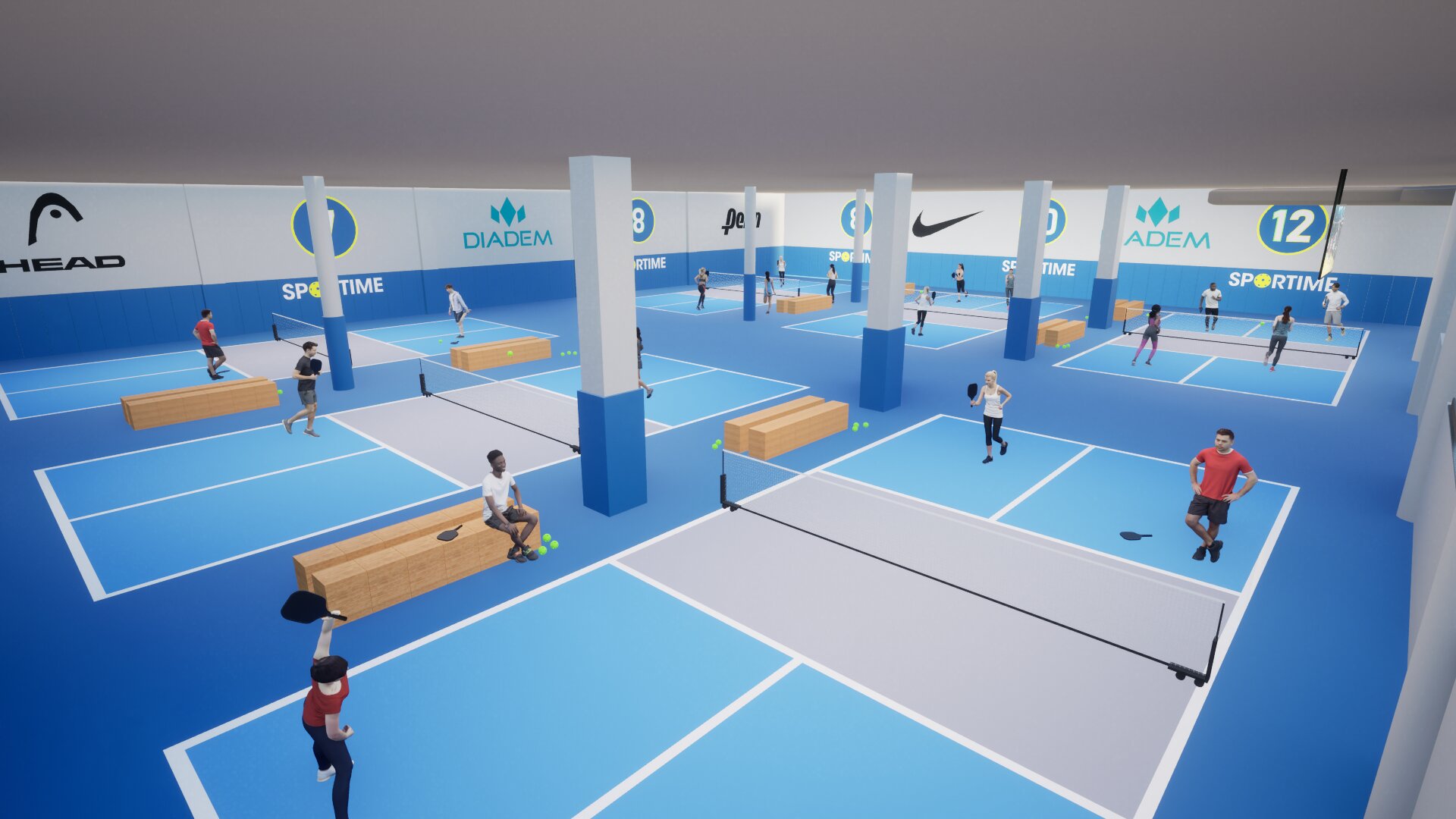 Locations throughout the Northeast to be Operated Under the Brand SPORTIME Pickleball
New York, October 2, 2023/ENDURANCE SPORTSWIRE/ – SPORTIME Clubs and Hornig Capital Partners announced today that they have signed a partnership agreement to establish a new company, SPORTIME Pickleball, LLC, that will develop and operate state-of-the-art, standalone, pickleball facilities in the tri-state area under the SPORTIME brand. The joint venture is a collaboration of SPORTIME Clubs, the largest and most sophisticated operator of racket sports facilities and programs in the Northeast, including the John McEnroe Tennis Academy, and Hornig Capital Partners, a NY-based real estate development company with a track record of success in developing value added properties.
SPORTIME Pickleball is currently preparing to offer a limited $14 million tranche of founding partner equity to qualified investors, and has executed a long-term lease for a site under development in Armonk, NY, scheduled to open in 2024. SPORTIME Pickleball is currently negotiating 8 lease transactions on Long Island and in Westchester, Connecticut, New Jersey and NYC, with the goal of having more than a dozen dedicated pickleball centers in operation by the end of 2027. Claude Okin, President & CEO of Sportime Clubs, explains, "for SPORTIME, this is a natural expansion of our business and allows us to utilize existing talent and expertise across racket sports lines. There are inexperienced pickleball start-ups everywhere at the moment, but we plan to leverage our 35-year advantage to offer the best pickleball facilities and programs and to acquire dominant market share in the geographies where we do business and nearby."
SPORTIME Pickleball will operate dedicated indoor and outdoor pickleball sites throughout the Northeast, and expects to become the dominant pickleball club operator in the area and beyond, leveraging SPORTIME's existing infrastructure, which already includes 70 pickleball courts, management and programming expertise and player database of more than 30,000 active members/players. SPORTIME recently opened the largest indoor pickleball facility in New York State at their Port Washington facility, consisting of 12 dedicated courts. Each SPORTIME Pickleball location will feature 10-20 state-of-the-art pickleball courts that will be available for social and competitive open play sessions, court-time rentals, tournaments, clinics, instruction, and private events. Some locations will feature restaurant and event spaces, which will be operated by food and beverage partners.
"We are continuing to see terrific growth in all racket sports, but especially in the unprecedented boom of pickleball. In response, SPORTIME is committed to bringing world-class pickleball facilities to our markets and beyond," explained Okin. "Our goal in pickleball, as in tennis, is to develop lifelong and committed players, who choose SPORTIME Pickleball locations to enjoy best-in-class facilities, instructional programs, customer care and amenities. We plan to grow our pickleball capacity as quickly as possible, and we are launching this new undertaking with the team at Hornig Capital Partners, who are experts in real estate development and planning."
Daren Hornig, Managing Partner of Hornig Capital Partners shared, "I am thrilled to be partnering with SPORTIME to help to build a business around a sport that I love, in markets that I know very well. My role is to source the best locations and to negotiate the best possible leases or acquisitions for our growing network of dedicated pickleball clubs." Hornig added, "It is very exciting to be participating in this joint venture with SPORTIME Clubs, as they represent the gold standard of excellence in racket sports facilities and programs in the Northeast. The pickleball boom is bringing more people to the court every day, and SPORTIME Pickleball will be providing high quality facilities and programs for our communities to embrace and enjoy."
For more information, email info@SportimePickleball.com.
###
About SPORTIME Clubs
Since 1994, SPORTIME has been proud to operate the finest tennis and sports facilities in New York State. SPORTIME's 15 club locations most recently expanded to include the iconic Port Washington Tennis Academy, now SPORTIME Port Washington. SPORTIME currently offers 194 indoor and outdoor tennis courts and 70 pickleball courts, as well as rinks, turf, camps, gyms and more, at sites across Long Island, in NYC, in Westchester and in the NY Capital Region. SPORTIME clubs are state-of-the-art, yet affordable, and feature the best tennis, sports and fitness facilities and programs, including the John McEnroe Tennis Academy (JMTA) and SPORTIME Volleyball Club (VBC). SPORTIME clubs serve individuals of every age and athletic ability, 365 days a year. Learn more: www.sportimeny.com.
About Hornig Capital Partners
Based in New York, Hornig Capital Partners LLC (HCP) is a privately held real estate investment and development firm specializing in value-added opportunities throughout the United States. Led by Daren Hornig, a real estate industry veteran with more than 30 years of experience, HCP pursues purchases of fee simple interest assets, as well as select joint venture structures, with capital appreciation opportunities and risk-adjusted returns. HCP also invests in assets for long-term property appreciation and to effectively recapitalize existing properties with owners to maximize returns. In the past ten years, HCP has successfully closed on more than $1 billion worth of property and development projects. Most recently, HCP purchased the iconic Port Washington Tennis Academy and successfully leased and partnered with Sportime Clubs to create the SPORTIME Port Washington, featuring over 200,000 square feet of tennis and pickleball courts and amenities; the largest racket sports center on Long Island.