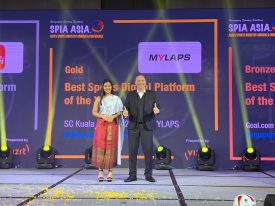 The MYLAPS EventApp used at the Standard Chartered Kuala Lumpur Marathon 2018 has been voted "Best Sports Digital Platform of the Year." The prize was awarded at the SPIA Asia conference in Thailand this week.
SPIA (Sport Industry Awards) is a leading organization in the sport industry and attracts all major stakeholders in sports to their conferences (organizers, sponsors, marketing agencies).
The nominated platforms were judged on the ability to communicate, engage and reach their target groups, which had to be supported by statistics and data analytics. The nominees were selected on innovative marketing of the digital platform related to push notifications, beacon technology, digital marketing, social media program and others.
At race day the Kuala Lumpur Marathon app was the number 1 app in the App Stores in Malaysia. With key features like Live Tracking, automated photos and selfies, the users really enjoyed the app, resulting in an average rating of 4.4 (out of 5) in the Google Play Store. The average session duration was almost 10 minutes (9:21). The Selfie feature also turned out to be a big success, with a total of 6,464 in-app selfies.
Other award winners at the SPIA Asia Conference were:
Formula 1 Rolex Australian Grand Prix (Best integrated marketing campaign for a sports event)
NBA (Best global sports organization operating in Asia)
Sina 3X3 Golden League Basketball China (Best mass participation event of the year)
About MYLAPS
We support athletes, racers and events in creating their ultimate sports experience. Every year we capture the performance of over 20 million people all over the world. And turn their data into insights, progress and fun. We offer them a better understanding of their performance and help them with their best next steps. Founded in 1982, we have revolutionized the world of sports timing with groundbreaking innovations and set the standard ever since. Our products and platforms are used at professional events like the Olympics and NASCAR to countless local events around the corner.
More information
For more information or Hi Res images, please contact Krijn Snuif, krijn.snuif@mylaps.com or +31-629721859