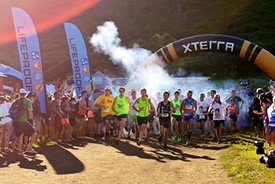 Star power prevailed at Kualoa Ranch as Patrick Smyth defended his title and Kimber Mattox won her first at the Paul Mitchell XTERRA Trail Running World Championship on Sunday.
Kualoa Ranch, Oahu, Hawaii (December 7, 2014) – Star power prevailed at Kualoa Ranch as Patrick Smyth defended his title and Kimber Mattox won her first at the Paul Mitchell XTERRA Trail Running World Championship on Sunday.
Smyth, who resides in Salt Lake City, Utah and runs for the Nike trail team, was the overall winner, completing the 21-kilometer championship course in 1 hour, 16 minutes, 39 seconds. Although challenged early by Brett Hales, the current XTERRA U.S. Trail Run Champion, Smyth was out-of-sight by the halfway point and crossed the line more than three-minutes ahead of Hales.
Mattox, who is from Bend, Oregon and was an All-American steeplechaser at the University of Oregon, was the first female and placed sixth overall with a time of 1:32:34. She caught Allie McLaughlin at about the six-mile mark and despite taking a nasty tumble on one of the tricky downhills, still managed to finish almost three minutes ahead of McLaughlin.
More than 1,500 runners from 20 countries and 40 states participated in the event on an "Aloha from Hawaii" postcard-type of day at Kualoa Ranch.
CLICK HERE FOR COMPLETE RESULTS / HIGHLIGHT VIDEO / PHOTO GALLERY
SMYTH DOMINATES
Just like last year, it seemed like Patrick Smyth was shot out of the cannon that started the race.  His fast start didn't catch anyone by surprise, and although Brett Hales did his best to match him stride-for-stride, Smyth pulled away and had time to enjoy the views before it was all over.
"I've raced a lot with Patrick this year and there's one thing you know for sure, that first mile is going to be fast," said Nike trail teammate David Roche, who finished third on the day a full 10-minutes behind Smyth.  "So, I was ready for that mentally, but still, he's probably the best runner in the world right now when it comes to running fast over trails so to me, it's an honor to race with him and I kind of expected him to do that today."
Hales, who has run against Smyth a bunch since their high school days in Utah, knew the race would start fast but wasn't sure what to expect out of the rest of the course. As a first-timer to Kualoa Ranch, and with pre-running not allowed on the private land, it was read and react for Hales.
"I was expecting the fast start, but then I found myself in uncharted territory.  I wanted to go with him but I didn't know what lied ahead," said Hales, who finished in 1:19:47, three minutes back in second place.  "Patrick had the experience from last year, and I was debating on whether to run with him or settle into my own pace.  When we hit the flats he would take off and accelerate.  Ultimately, about two miles in I settled in to see where it would take me.  I came out here to have fun with my wife and get a great experience and I did both of those things today, that's really what today was all about for me."
For Smyth, who has been riding a high since winning XTERRA Nationals and Worlds last year with wins at the U.S. Trail Half-Marathon Championships and a top 10 (top American) showing at the World Mountain Running Championships, the competition provided all the motivation he needed.
"It was an adventure for sure," said Smyth.  "It was fun, it had a lot of elements – tough, difficult, crazy, and I had Brett chasing me the whole time. He was on my heels for probably five miles.  I didn't break away until we were on the other side of the mountain.  It was tougher than last year so I was real surprised I ran close to the same time (Note; he ran exactly one-second slower than his winning time last year).  Coming over the ridge and descending it was a lot more slippery this year.  Last year I was able to mob down that hill, but this year I actually have rope burns from holding on to the rope for dear life.  I was just trying to stay on my feet, and even as we got out of there it was a little dicey.  There's no way I would've run close to as fast as I did this year without someone chasing me like Brett was today.  That improved my performance for sure, having him on my heels."
Hawaii Pacific University cross country runner Fermin Villagran from Mesa, Arizona finished fourth, and Maui's-own Reid Hunter was the top Hawaii guy and placed 5th overall.
While Smyth was well aware of the beauty of the ranch, both Hales and Roche were taken aback by the scenery on hand.
"I've never been to Hawaii before and can tell you this course is the most beautiful I've ever seen," said Roche, the US 10K Trail National Champ.  "It makes it easy to push yourself when you're on trails like that and have views like this.  It's the best venue in the world for sure."
"You see videos of this and it doesn't do justice to what you actually experience," added Hales.  "You're dodging things, ducking under branches, jumping over roots and running off the mountain half the time because that's just where you end up so you're bushwhacking it.  It was intense.  Absolute blast."
"Kualoa Ranch is incredible, I actually got to take it in this time on the single track into the finish looking out over the ocean," said Smyth.  "There are not many views like this in the world.  It was more enjoyable this year because I got to take it in a little better."
Outside of the beauty of the course, everybody was talking about a) that climb and b) that crazy, slippery, jungle downhill after the course peaks out at "Pualoa Pass" and the 750-foot mark.
"Mile 9 to 10, it pitched straight up! It was like climbing a ladder to get up that mountain," explained Hales.  "Then that downhill, I was debating whether to stay on me feet or jump on my butt and slide down.  I probably would've gone faster if I turned it into a slip-n-slide."
"It was so hard, but in an amazing way," said Roche.  "Neither my wife or I had ever been to a medical tent after a race and we both went in today.  It was very romantic."
"We went to the hurt locker out there," added Megan Roche.  "We're not quite used to the heat and we were really pushing it, pushing the uphills and hammering the downhills and that combination was…"
TOP MEN
| | | | | |
| --- | --- | --- | --- | --- |
| Place | Name | Time | Hometown | Prize |
| 1 | Patrick Smyth | 1:16:39 | Salt Lake City, Utah | $2,000 |
| 2 | Brett Hales | 1:19:47 | Layton, Utah | $1,000 |
| 3 | David Roche | 1:26:51 | Sunnyvale, California | $750 |
| 4 | Fermin Villagran | 1:29:26 | Honolulu, Hawaii | $500 |
| 5 | Reid Hunter | 1:32:34 | Lahaina, Hawaii | $300 |
| 6 | Leandro Santillan | 1:36:06 | Honolulu, Hawaii | $250 |
| 7 | Ashur Youssefi-Dizagetaki | 1:37:12 | Curridabat, Costa Rica | $200 |
MATTOX DIGS DEEP FOR THE WIN
Kimber Mattox, a track star in college, started to branch out into other formats of running recently and has had great success.  She was second at XTERRA Trail Run Nationals at Utah in her first-ever trail race this September, won the Warrior Dash World Championship in October, and added another world title to her resume today.
"It's been a good, lucky year," said Mattox.  "I've got a great team, a great coach, and started to explore some other things and it's been really fun.  To try different races and meet the communities.  It's such a fun group of people, and great to be on the start line with such a unique and diverse group of people with so many inspiring stories. I think that's something so cool about the trail running community."
With Mattox easy demeanor and ferocious running style she is certain to find that the trail running community feels the same way about her.  Today she trailed Allie McLaughlin and Megan Roche – the "Women's Mountain Runner of the Year" and the "Women's Sub-Ultra Trail Runner of the Year", respectively, early-on but didn't give up or give in.  First she caught Roche and by mile six it was McLaughlin and that was it.
"It was exciting, quite the experience," said Mattox.  "I've only done one other trail race which was XTERRA Nationals and this one was a lot more technical than I've ever experienced.  On that muddy downhill I spent more time on my butt than I did on my feet but it was so fun and the views are just incredible.  When I got to the top of some of those climbs and looked out I thought 'how lucky am I."  No matter how much this hurts you're in one of the most beautiful places in the world.  It was really fun.  Tough, but you'd get these little treats along the way to keep you moving."
"Tough" is exactly how McLaughlin – considered one of the best mountain runners in the world – described today's race.
"It was a beautiful course but it was a tough day for me," said McLaughlin.  "The first half was awesome. I felt really good. Think we were averaging like 6:25/6:30's and then … about six miles in (Mattox) caught me on one of the hills and it was in the sun … and I don't want to say that's when I hit the wall, but that's certainly when it got tougher.  I hung on for a while and then let her go and she got out of sight."
Megan Roche had nothing but praise for Mattox and McLaughlin, saying "They are excellent runners, and this is a true runner's course, which is awesome.  The trails were really fast out there today."
Much like the rest of the field, Roche was impressed with the landscape.  "It was beautiful," she said.  "At one point we came up over a dirt road and it was overlooking the ocean and I got chills for a second just looking out, it was awesome."
Melissa Newberry from Eugene, OR and Caitlin Smith from Oakland, CA rounded out the top five in fourth and fifth, respectively.
TOP WOMEN
| | | | | |
| --- | --- | --- | --- | --- |
| Place | Name | Time | Hometown | Prize |
| 1 | Kimber Mattox | 1:32:44 | Eugene, Oregon | $2,000 |
| 2 | Allie McLaughlin | 1:35:32 | Colorado Springs, Colorado | $1,000 |
| 3 | Megan Roche | 1:39:06 | Sunnyvale, California | $750 |
| 4 | Melissa Newbery | 1:42:49 | Eugene, Oregon | $500 |
| 5 | Caitlin Smith | 1:46:30 | Oakland, California | $300 |
| 6 | Vanja Cnops | 1:49:01 | Erps-Kwerps, Belgium | $250 |
| 7 | Lauren Ho | 1:50:45 | Kailua, Hawaii | $200 |
AGE DIVISION WORLD CHAMPIONS
The 2014 class of XTERRA Trail Run World Champions feature 25 men and women from around the world and across the U.S.
Standing out among them are Hawaii's own Jakob Dewald (pictured), who won his third 15-19 division world title, Canadian Melanie McQuaid – the 3x triathlon World Champ from Canada who won her third trail run world title today, along with Wilhelm Northrop from Boise (45-49), Mike Heiliger from Canada (60-64), Lisa Gonzales-Gile from Colorado, and former Miss Hawaii Candes Gentry (35-39) who each won their second World Championship today.
One of the more remarkable performances came from 11-year-old Kasuga Watabe from Japan who not only won the 10-14 division in 1:51:52, she finished eighth overall among all women.
Also of note, Hawaii Sport Magazine founder/editor Christian Friis captured his first XTERRA Trail Run World Championship (after seven years of trying) in the 40-44 division.  There was even a wedding proposal on the trails today (and the answer was unanimously yes).
Above all, Kualoa Ranch was once again the star of the show, provided trails and views that are one-of-a-kind.
"Having raced extensively in the U.S. and abroad, this event ranks up there as one of those on the "must-do" list," said Nancy Hobbs, the Executive Director of the American Trail Running Association, who placed 2nd to her buddy Anita Ortiz in the 50-54 division today.  "The course has it all…challenge, terrain changes, incredible scenery, gnarly single track, stream crossings, as well as tree roots and rocks to navigate. The course is truly a "trail" course with so much variety and challenge. It really was one of the tougher trail races I have done when combining the heat, humidity, terrain changes, slippery rock and mud, etc."
PAUL MITCHELL XTERRA TRAIL RUN WORLD CHAMPIONS (MEN)
| | | | |
| --- | --- | --- | --- |
| Division | Name | Hometown | Time |
| 10-14 | Kala'iku Kaneshiro | Pearl City, Hawaii | 2:32:17 |
| 15-19 | (3) Jakob Dewald | Mililani, Hawaii | 1:38:42 |
| 20-24 | Fermin Villagran | Honolulu, Hawaii | 1:29:26 |
| 25-29 | (2) Patrick Smyth* | Salt Lake City, Utah | 1:16:39 |
| 30-34 | Erick Agüero | San Jose, Costa Rica | 1:41:29 |
| 35-39 | Mark Torres | Lakewood, Colorado | 1:37:56 |
| 40-44 | Christian Friis | Kailua, Hawaii | 1:43:13 |
| 45-49 | (2) Wilhelm Northrop | Boise, Idaho | 1:43:39 |
| 50-54 | Ray Brust | Honolulu, Hawaii | 1:45:54 |
| 55-59 | Patrick Wallace | Danville, California | 1:48:32 |
| 60-64 | (2) Mike Heiliger | Squamish, Canada | 2:10:07 |
| 65-69 | Keith Campbell | Honolulu, Hawaii | 2:13:06 |
| 70-74 | Ellis Andrews | Penticton, Canada | 2:17:25 |
PAUL MITCHELL XTERRA TRAIL RUN WORLD CHAMPIONS (WOMEN)
| | | | |
| --- | --- | --- | --- |
| Division | Name | Hometown | Time |
| 10-14 | Kasuga Watabe | Japan | 1:51:52 |
| 15-19 | Bailey Haugan | Fort St. John, Canada | 2:13:47 |
| 20-24 | Allie McLaughlin | Colorado Springs, Colorado | 1:35:32 |
| 25-29 | Kimber Mattox* | Eugene, Oregon | 1:32:44 |
| 30-34 | Caitlin Smith | Oakland, California | 1:46:30 |
| 35-39 | (2) Candes Gentry | Honolulu, Hawaii | 1:55:09 |
| 40-44 | (3) Melanie McQuaid | Victoria, Canada | 1:53:24 |
| 45-49 | Julie Robb | North Vancouver, Canada | 2:02:49 |
| 50-54 | Anita Ortiz | Eagle, Colorado | 1:56:39 |
| 55-59 | (2) Lisa Gonzales-Gile | Vail, Colorado | 2:20:26 |
| 60-64 | Sandra Vincent | Knoxville, Tennessee | 3:25:07 |
| 65-69 | Emiko Kashiwagi | Japan | 3:19:01 |
5/10KM WINNERS
In addition to the 21K championship course, there were also 10K and 5K races staged at Kualoa Ranch on Sunday.
Jorge Mendez from Honolulu won the 10K race for the second year in a row, finishing in 35:35.  Jordyn Smith from Eugene, OR was the top female in 42:42.  Kevin Enriques from Honolulu placed first in the 5K for the second year in a row with a time of 21:26, while Diana Eaton from Honolulu was the top female in 27:22.
SPONSOR TEAM
The Paul Mitchell XTERRA Trail Run World Championship is presented by Outrigger Hotels and Resorts and PowerBar. Sponsors include the Hawaii Tourism Authority, Kualoa Ranch, Gatorade, Trail Runner Magazine, LifeProof, Hawaii Sport Magazine, Muscle Milk, XTERRA Fitness, Optic Nerve Sunglasses, Champion System, XTERRA Coffee, and Greenlayer.
ABOUT TEAM UNLIMITED / XTERRA
TEAM Unlimited is a Hawaii-based television events and marketing company, founded in 1988.  It owns and produces XTERRA and in 2014 will offer more than 300 XTERRA off-road triathlon and trail running races in 25+ countries worldwide. In addition, TEAM TV has produced more than 300 adventure television shows resulting in three Emmy's and 42 Telly Awards for production excellence since 1990.  View samples at www.xterra.tv, and learn more at www.xterraplanet.com and www.xterratrailrun.com.