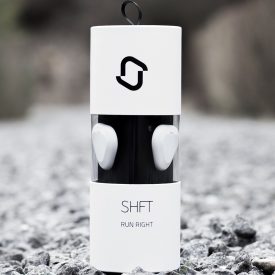 SHFT Run Right
Boston, MA – September 29, 2016 – SHFT, a Denmark-based company, is introducing a new segment to the wearable tech category called Running Trainable Technology with its new Intelligent Virtual Running Coach App.
SHFT wants to help runners improve their technique and energy consumption by eliminating unnecessary and inappropriate movements in their running pattern and instead, focus on how every body movement can be more efficient, contributing to the maximum propulsion possible. Watt measurement and real-time coaching is the foundation of a new technology that will turn runners into faster, safer and happier runners.
From day one, the SHFT-Team's ambition has been to give every runner the possibility to gain access to his or her own private running coach. The complex combination of intelligent hardware and sophisticated software represents in its simplicity a unique digital running coach whose sole purpose is to turn you into the best version of yourself.
The SHFT technology consists of two pods and a mobile phone App. One pod is clipped on the shoe and the other pod strapped on the chest. SHFT triangulates the data while running. Based on an initial screening run, SHFT puts together a thorough analysis which is the foundation for the technical run guided by SHFT. During each coached run you will receive simple and easy to understand real-time voice coaching commands on how to optimize the current running pattern. The coaching instructions are based on a number of 'Running Metrics' such as Steps per Minute, Ground Contact Time, Body Bounce, Brake Effect, Landing Position and other metrics that can streamline running techniques.
"There are plenty of wearables and running apps on the market today with the purpose of collecting various running data and providing post workout feedback. SHFT developed a product capable of analyzing, translating, and making conclusions based on running data and providing feedback to runners in the shape of real-time voice coaching – we have crossed from wearable to trainable technology, this is what SHFT is all about…", says SHFT's CEO Tony Motzfelt.
The SHFT-Team has been uncompromising in many ways in its approach to developing SHFT. In addition to creating a complex real-time voice coaching engine, SHFT has dropped support for the well-known Heart Rate Monitor and instead going all in on the introduction of the use of Watt Measurement in running. The team has a strong belief that Watt is the most precise way of measuring a runners' efficiency. "We believe the way to obtain our full potential as runners depends on how we master efficient and healthy running technique. Among many metrics, we use Watt to determine the runner's efficiency measured by the relationship between the runner's total wattage (energy consumption) and the wattage used to move forward", Jacob Gliese, Global Sales Manager for SHFT explains.
About SHFT
SHFT launched the new Intelligent Virtual Running Coach in Europe in December 2015 and is now available for purchase in the United States.  The SHFT App is compatible with the Apple iPhone 5 or newer and the Android 4.4 and above. www.SHFT.Run