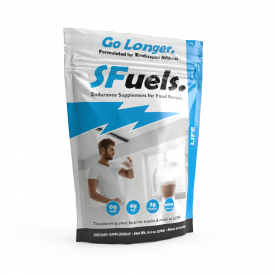 SFuels LLC annouces launch of SFuels Life on May 15th
SFuels LLC is excited to announce the addition of SFuels.LIFE to its product portfolio on April 15th, 2019.
SFuels Life is creating a new supplement category for low-carb high-fat athletes to transform their favorite snacks, meals and drinks, FAST and EASY to low-carb food.  Adding SFuels Life to your low-carb snacks, meals and drinks enables sustained fat oxidation, meets calorie and electrolyte requirements, and provides nutrients to support accelerated recovery.
"One of the biggest issues for my low-carb athletes is compliance, especially when the rest of the family is not LCHF! SFuels.LIFE was designed from the ground up to help the athlete create their favorite snacks, meals and drinks – while ensuring efficient fat oxidation is maintained."  Dr Dan Plews
SFuels Life is being supported by Kristina's Low Carb Kitchen, another initiative from SFuels that will show consumers how to use SFuels. Life and other SFuels products to create tasty, LCHF compliant foods without the need to purchase a long list of specialized and expensive ingredients. Kristina's Low Carb Kitchen will feature SFuels Ambassadors, athletes and the SFuels team with exciting, simple, proven LCHF recipes for the endurance lifestyle.
"Simplicity and taste – are key to any diet and lifestyle.  SFuels.LIFE helps simplify and accelerate putting basic foods like granolas, shakes and pancakes together in a low-carb format.  It keeps our fat-ox in check, and gives us time back," said  Tim Reynolds, SFuels Global Ambassador Program director. 
"Maintaining calorie load and electrolyte levels is critical to low-carb athletes, in fueling the volume and intensity of training, while maintaining efficient fat-oxidation.  Making it easy for athletes to stick with their 'grab and go meals' in a low-carb form will become a clear differentiator for SFuels, and fundamental to age-group and world-class champion endurance athletes," said Dave Scott. 
SFuels began developing LCHF endurance fuels in 2014, in both training bar and drink formats. SFuels products are developed to provide caloric fuels, without the simple-sugars and sugar alcohols used in traditional products. SFuels is focused on enabling maximal oxidation of fat for fuel, while also mitigating race-stopping simple-sugar triggered gut/GI issues. SFuels was developed and tested in the ultra-running community and has since made its debut in a grand fashion at the Ironman World Championships last year in Kona with Dr. Dan Plews – then a sponsored SFuels athlete winning the Overall Age Group in stunning fashion with a world record time of 8 hours 24 minutes. 
SFuels Life can be purchased on the SFuels Shop which is found at https://shop.sfuelsgolonger.com/
Kristina's Low Carb Kitchen Show can be subscribed to at https://www.sfuelsgolonger.com/kitchenshow
SFuels LLC.  A US company, dedicated to developing fuels and nutrition for the ultra-endurance sports community, founded on low-carb high fat principles.  The company seeks to educate and enable both endurance athletes and the broader industry on improved training-racing performances, and the longevity of their endurance lifestyles.  Find more information about SFuels at SFuelsgolonger.com