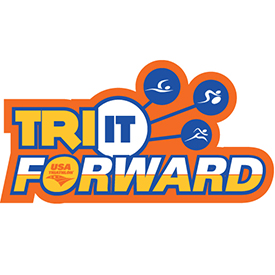 Annual members can tag friends and family members to do their first triathlon
COLORADO SPRINGS, Colo. — USA Triathlon today announced Tri it Forward to motivate and inspire new athletes while increasing multisport participation and promoting healthy lifestyles across the United States.
Tri it Forward aims to increase triathlon participation by encouraging others to do their first event through a Triathlon Tag system. Once tagged, the program supports new athletes on a transformative fitness journey by inviting and integrating those athletes into the unique triathlon community. Tri it Forward is based on the "pay it forward" concept, in which one person performs an unsolicited good deed for another, and in turn, that recipient helps someone else.
"Tri it Forward epitomizes triathlon and multisport to the core," said Rob Urbach, USA Triathlon CEO. "Most athletes in our community signed up for their first triathlon with the encouragement of someone they knew who was a triathlete. For many, this first triathlon was an exposing experience adding social energy, purpose and vitality to their lives. Our community is comprised of inspiring triathletes who are further energized to help others add purpose, meaning fitness through triathlon, and Tri it Forward is a way to recognize that spirit."
USA Triathlon annual members can encourage friends, family and co-workers to do their first triathlon via Triathlon Tag. Annual members can tag someone who has never done a triathlon. If the person tagged accepts the challenge, he or she will receive a free training plan from a USA Triathlon Certified Coach as part of a digital starter kit. Additionally, if that person registers for a USA Triathlon annual membership, he or she will receive all the benefits of being a USA Triathlon member plus Tri it Forward memorabilia.
To tag a friend for his or her first triathlon, USA Triathlon annual members can login to their membership account at usatriathlon.org and click the "Tri it Forward" tab at the top of the page. Tagged individuals will receive an email notifying them of the tag. Members who successfully inspire someone to sign up for a membership or complete a race will also receive an email.
Multisport athletes and tagged individuals may use the hashtag #TriitForward to encourage others to join the fun.
More information on the Tri it Forward initiative is available at usatriathlon.org/triitforward.
About USA Triathlon USA Triathlon is proud to serve as the National Governing Body for triathlon, as well as duathlon, aquathlon, aquabike, winter triathlon, off-road triathlon and paratriathlon in the United States. Founded in 1982, USA Triathlon sanctions more than 4,300 races and connects with nearly 500,000 members each year, making it the largest multisport organization in the world. In addition to its work with athletes, coaches, and race directors on the grassroots level, USA Triathlon provides leadership and support to elite athletes competing at international events, including International Triathlon Union (ITU) World Championships, Pan American Games and the Olympic and Paralympic Games. USA Triathlon is a proud member of the ITU and the United States Olympic Committee (USOC).