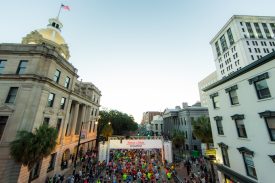 Science in Sport named official gel of the Rock 'n' Roll Marathon Series
SAN DIEGO – November 8, 2017 – The Rock 'n' Roll Marathon Series today announced a new partnership with Science in Sport (SiS) to become the Official Gel of the series. The agreement spans the entirety of the Rock 'n' Roll Marathon Series where the sports nutrition manufacturer will provide their energy gel as the on-course sustenance. The partnership kicked off at the Synchrony Financial Rock 'n' Roll Brooklyn Half Marathon on October 14, 2017 and continues through December 2020.
Chief Executive Officer at Science in Sport, Stephen Moon says: ""We are delighted to have signed this exclusive Global Partnership with Rock 'n' Roll Marathon Series, which is testament to our science and product superiority. This builds on our reach in the US having already partnered with USA Cycling earlier this year, and supports our International growth strategy."
The SiS GO Isotonic Energy Gel was the world's first isotonic Gel; the company's award-winning formulation effectively delivers an easy digesting and quick supply of carbohydrate for energy during exercise. They are designed to be consumed without water, minimizing the risk of bloating that can sometimes occur with over-drinking and improve the athlete's training and racing experience. Additional carbohydrate during exercise is known to improve performance, race times and delay the onset of fatigue. The gels are tested under the Informed Sport & Informed Choice Certification program. This approach involves testing every single batch of SiS finished product which leaves the company's factory, screened against the 2017 World Anti-Doping Agency (WADA) list.
"It is our goal to provide participants with safe and effective products when they run our races," said John Smith, Senior Vice President of Rock 'n' Roll Marathon. "These gels are developed from science so we are confident we are providing one of the best products out there for our runners' health and performance. We look forward to kicking this agreement off and working together to provide a healthy and active lifestyle for our consumers."
More than 600,000 professional and amateur athletes from all over the world will participate in a Rock 'n' Roll Marathon Series event in 2017, which has expanded to 30 markets worldwide. The series of marathons and half marathons are known for placing entertainment stages along the course, lining the route with cheerleaders and topping the experience off with a finish line concert celebration for all participants. The musically-themed races helped spearhead an active lifestyle movement that provides unique entertainment for runners of all abilities.
About Science in Sport, Inc.
Science in Sport plc is a leading sports nutrition company that develops, manufactures and markets sports nutrition products for professional athletes and sports enthusiasts. SiS is a strong brand in the elite athlete community – in the 2016 Rio Olympics, 34 medal-winning athletes or teams used SiS products.
The SiS core product ranges include: SiS GO, comprising energy powders, isotonic gels, energy bars and hydration tablets; SiS REGO, including protein-based recovery powders; and SIS Protein, products specifically designed to contribute to athletes' lean muscle mass growth and maintenance, SiS products are sold in a range of retail channels, including specialist sport retailers and e-commerce websites.
SiS is currently the official sports nutrition supplier to professional cycling team Team SKY, British Cycling, Cycling Australia, USA Cycling and British Triathlon. In addition, Olympian Sir Chris Hoy MBE a Brand Ambassadors and Mark Cavendish MBE is an Elite Sports Consultant to the brand.
SiS was founded in 1992 and is headquartered in Hatton Garden, London. Its manufacturing facility is in Nelson, Lancashire. SiS shares are traded on the AIM market of the London Stock Exchange under the ticker symbol SIS.For further information, please visit www.scienceinsport.com
About the Rock 'n' Roll Marathon Series
With more than 600,000 runners taking part in 30 destination events around the world every year, more runners choose the Rock 'n' Roll Marathon Series than any other running series. Established in 1998, Rock 'n' Roll Marathon Series' simple idea of making running fun has transformed the U.S. running landscape by infusing the course with live bands, cheer teams and entertaining water stations, creating a block-party atmosphere for participants and spectators alike.
Over the 20-year history of the Rock 'n' Roll Marathon Series, charity partners have raised more than $335 million through the events for a variety of worthy causes. Race weekend kicks off with a free Health & Fitness Expo showcasing the latest in running gear, sports apparel, health and nutritional information and much more. Events culminate with an entertaining finish line festival and Toyota Concert Series featuring some of the biggest names in music, with past headliners including Kid Rock, Rascal Flatts, Macklemore & Ryan Lewis, Pitbull, FloRida and Andy Grammer. Further information about the Rock 'n' Roll Marathon Series can be found online at RunRocknRoll.com.
Media Contacts
Rock 'n' Roll Marathon – Teyva Sammet, (831) 818-5945, tsammet@competitorgroup.com
Science in Sport – Zach Pina, (213) 715-6230, zach@truecommunications.com
# # #