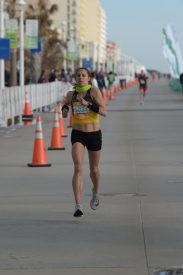 Bishop Will Be Honored with the Indy Women's "Trailblazer Award"
INDIANAPOLIS – The Indy Women's Half Marathon and 5K announced today that it has named elite runner Sarah Bishop as its first of two "Trailblazer Award" winners for 2018. The Indy Women's Trailblazer Award program, previously called the "Phenomenal Women" award, honors women who strive to make a difference in the lives of others, women who inspire others to succeed, and women who support other women and encourage them to lead healthy lifestyles.
A former All-American 800-meter runner in college, Bishop began running longer distances later in her life after a career in the Air Force and having four children. She ran track and cross country, but focused on shorter distances while competing at Auburn University. She took several years off and had her four daughters, now ages 8, 6 and twins who are 5, but said that after a while she began to feel overwhelmed with balancing her career as an engineer, being a mother and being a wife. "I almost felt like I had lost a part of myself," she said. She felt like it was time for her to start doing something for herself and made a commitment to begin running again.
After nearly a decade away from running regularly, Bishop said her goals had changed but she once again fell in love with the sport. In 2014 she ran her first marathon and finished in an impressive time of 2:52. Her training continued and she went on to win several high-profile races. In October 2017 she won the Marine Corp Marathon, a race she entered just nine days earlier, and in December she ran the California International Marathon in a time of 2:42.46, which also qualified her for the Olympic Trials. She just recently won the Rock Hall Half Marathon in Cleveland and will be racing in several other marathons and half-marathons this fall, including the Indy Women's Half Marathon. She does all of this while balancing her own career as a coach under McKirdy Trained, being a wife and being a mother to her four young daughters. 
Bishop says that she is able to make it all work because she allows herself to take the time to do something she loves and encourages other women to do the same. ""I realized it's okay to make my happiness a priority, and I hope other women do too," she said. "Don't be afraid to invest in yourself."
Bishop says that she finds that a lot of women feel guilty about taking time away from their family or career responsibilities to do something for themselves, but that doing so is beneficial. "It's okay to do something for yourself that you're passionate about," she said. "I am the best version of myself when I'm running. I'm a better mom, I'm a better wife and a better employee because I'm happier when I run."
Bishop also uses her experience as a runner to help others through her coaching. She coaches a wide variety of runners, ranging from those running elite times to those trying to just finish their first half marathon or marathon. She said she has realized that many people have no idea what they can accomplish, but that solid training can help anyone achieve their goals. "People have no idea how far they can go," she said. "I started to realize that whatever our pace, we are all doing different variations of the same workouts. Race results come from the training you're doing. If you're willing to do the work, you will see the results."
"Sarah Bishop is a trailblazer for women because she demonstrates that women can and should take time for themselves to pursue their passions," said Indy Women's Race Director Todd Oliver. "We were so impressed by how she came back to running and made her goals a priority. She is a wonderful example of how running – no matter how fast or slow – doesn't take away from an individual's life but adds to it. We are honored to have her here as part of the Indy Women's race weekend."
The Indy Women's Trailblazer Award was started in 2016 as a way to recognize women who presented to women who are positively impacting the sport and women's health through innovation, volunteerism, and/or encouraging, implementing and championing healthy lifestyles through sport. An honoree of the Indy Women's Trailblazer Award must meet one of three criteria: she is an advocate for women's running, she has changed her community for the better or she has overcome personal or physical adversity. 
Trailblazer Award honorees will be recognized at the pre-race expo on Friday, Sept. 28 and at the opening ceremonies of the Indy Women's Half and 5K on Saturday, Sept. 29. 
About Indy Women's Half Marathon & 5K
The Indy Women's Half Marathon was introduced to the central Indiana running community in August 2010 as the first women's only half marathon in Indiana. In just a few years, it has become the largest women's running event in the state and the seventh largest women's half marathon in the country. A women's-only race offers a unique atmosphere, emotion and camaraderie from women of all ages and abilities. According to a 2014 Running USA industry report, there are 8.6 million female runners in the U.S. Within that group, half marathons are the fastest growing race distance. For more information or to register for either the Half Marathon or 5K go to www.indywomenshalfmarathon.com.