Salomon Expands U.S. Footwear Team with Outdoor Commercial Manager Hire
April 11, 2019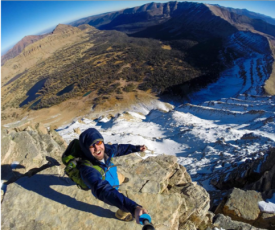 Former Backcountry.com buyer George Egan to lead regional planning and execution in hiking, backpacking categories
OGDEN, Utah (April 11, 2019) – Salomon announces the appointment of George Egan to the new role of U.S. outdoor commercial manager for footwear. Egan, an outdoor enthusiast and self-proclaimed shoe fanatic from Schroon Lake, New York, previously served as a footwear and softgoods buyer at Backcountry.com. In his new role, Egan is responsible for developing and executing the regional strategic plan to accelerate growth, with a focus on the hiking and backpacking footwear categories. 
"George has a proven passion for outdoor footwear with demonstrated success in surpassing sales goals in this category. His experience in assortment selection, vendor negotiations, purchase order management, and inventory management with a market-leading retailer like Backcountry.com positions him well to lead Salomon's outdoor-category growth moving forward," says Lance Taylor, footwear commercial manager for Salomon North America.
While serving as a buyer since 2014, Egan carried revenue, margin and inventory responsibilities at Backcountry.com for his brands, which included Salomon. In his new position, Egan is responsible for bringing the brand's vision to life at retail through managing the commercial plan for Salomon's hiking and backpacking footwear categories in the U.S. market.
Egan holds a Bachelor of Science in Exercise Science from the University of Utah and a Master of Science in Athletic Training from Weber State University. 
"Working with a global brand like Salomon, for a footwear fanatic and outdoorsman like myself, is an incredible opportunity. Both Salomon and I share a common goal—to grow within the footwear industry—and I am excited to dig in, learn from the collective experiences here and help drive the brand's future successes," says Egan. "Culturally, working alongside like-minded people who are passionate about the outdoors and playing on the trails is a bonus."
Egan joined Salomon March 28, 2019 and will spearhead commercial strategy for key hiking footwear initiatives, such as the OUT and X Ultra franchises.
###
About Salomon: Born in the French Alps in 1947, Salomon is committed to pushing the boundaries of mountain sports through the creation of innovative equipment that allows people to play, progress and challenge themselves in their chosen outdoor sports. The company produces and sells premium footwear, winter sports and mountaineering equipment, hiking equipment, and apparel specifically designed for all of those disciplines. Products are developed in the company's Annecy Design Center, where engineers, designers and athletes collaborate to create innovative solutions that continually improve the outdoor experiences of those who see nature as a vast playground.
Contact: Emily Banks
[email protected]
970-924-0704 ext. 103