RunSignup Wraps Up Sold Out 2019 Symposium
July 19, 2019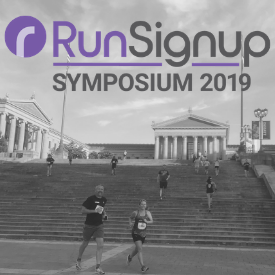 (Moorestown, NJ)– RunSignup, the leading technology provider for races in the U.S., wrapped up their sixth RunSignup Symposium Wedndesday, July 17th in Philadelphia, PA. The sold out event gathered 293 race directors, timers, and industry professionals for education and networking opportunities.
Highlights of the 2019 education program included:
18 education sessions on race promotion, registration management, fundraising, and race day technology
Expert panels on fundraising, marketing, and business practices, with contributions from Mitch Stoller of AACR, Courtney Slack from the 9/11 Memorial and Museum, Amanda Sweet from the Muscular Dystrophy Association, Thomas Neuberger and Rachael Blanchard from Big Run Media, Courtney Young from Sour Fish Events, Robby McClung from Cranberry Joe, Scott Sutter from RaceInsure, Michelle Bettis from 3W Races and Matt McMorris from Green Leaf Racing
32 Small Group Workshops on specific features
A RaceDay Certification on RaceDay Scoring and RaceJoy for an additional 50+ timers
Advanced sessions for certified timers, covering strategic business thinking, RaceJoy, RaceDay technology best practices for relays, ultras, wave events and triathlons, the RaceDay CheckIn App, RaceDay Scoring, The Race Director, and RaceDay Photos
RaceDay Demo rooms for a hands-on experience with a variety of RaceDay products and timing hardware equipment, including ChronoTrack/Athlinks, MYLAPS, IPICO Sports, race result, and Nova Timing Systems.
In addition to the educational sessions, the Symposium saw the unveiling of GiveSignup, a new division of the company providing free technology to nonprofits, and the awarding of the first Alan Jones Timer Award to Marc Roy of Sportstats. Networking events included a reception at the historic Reading Terminal Market, a happy hour at Love City brewing, and a morning run to the Rocky Statue and the Philadelphia Art Museum.
RunSignup Founder and CEO Bob Bickel said, "As a company, we invest in education because we believe an informed, connected endurance industry creates better events and more opportunity for growth. Throughout the year, we offer with annual reports on RaceTrends and the Top 100 Races, a bi-annual Registration Market Analysis, a robust webinar program, industry case studies, a RaceDay Certification program, and partnership with the Race Directors Hub Facebook Group. The RunSignup Symposium is our chance to offer technology training in person, and facilitate connections between industry leaders."
About RunSignup
RunSignup is the leading all-in-one platform for endurance and fundraising events. More than 20,000 races, supporting over 8,000 nonprofits, use RunSignup's free and integrated solution to save time, grow their events, and raise more. Built on a powerful CRM, RunSignup delivers the art of technology to power the entire race cycle, with promotional tools, registration, a full fundraising platform, and a suite of RaceDay products – including the runner-tracking app RaceJoy and race timing software, RaceDay Scoring. For more information, visit www.runsignup.com