RunSignup Introduces TicketSignup, a Free Ticket Event Platform
February 8, 2022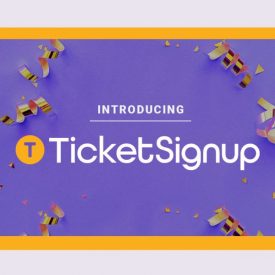 /ENDURANCE SPORTSWIRE/ –RunSignup is proud to announce TicketSignup, an offering that provides event directors with an intuitive and free event ticketing option that works for simple, complex, and multi-day events. TicketSignup provides event directors with all the tools they need for a successful event, including free email marketing, free websites, integrated marketing tools, and an event day Ticket CheckIn App.
TicketSignup is built on the technology and business foundations of RunSignup and GiveSignup. RunSignup was started in 2010 to create solutions for endurance events, and GiveSignup was introduced in 2019 to provide purpose-built technology for nonprofits. Today, the company supports more than 26,000 events and 7 million event participants and attendees each year.
The TicketSignup platform is designed to meet the unique needs of a wide range of events, including holiday light shows, festivals, corn mazes, golf tournaments, galas, and more. The entire array of features is free for the event director, with no surprise fees, exclusive contracts, or upcharges.
Key features of TicketSignup include:
Free event marketing: All TicketSignup events have access to free email marketing, free event websites, automated referral rewards tools, and social sharing customization options.
Flexible ticket options: Ticketing options allow for flexible pricing strategies, advanced setups for events with multiple time slots across multiple days, customizable information collection, easy ticket management, and comprehensive reporting.
Integrated donations: Nonprofits and events that work with a nonprofit partner can quickly and easily add donations to the ticket purchase path or offer discounted tickets for attendees who make a donation of a pre-set amount.
EventDay tools: TicketSignup makes EventDay seamless with a free mobile CheckIn App, a free photo platform, and a text service (coming soon!).
"Our company has always been built around listening to the challenges faced by our customers and looking for ways to help them by building better technology solutions," said Bob Bickel, Founder and CEO of RunSignup. "We have spent the last few years building a robust ticketing platform for our nonprofit customers through GiveSignup, and we are excited to be able to provide access to the platform to a wider audience via TicketSignup."
TicketSignup leverages the secure infrastructure and technology architecture of RunSignup and GiveSignup and provides event directors with a dedicated team to support their event.  For more information, visit: www.ticketsignup.ioor join our webinar on February 10, 2022.
About TicketSignup:
TicketSignup offers event organizers a free and easy solution to sell tickets, grow their event, and ensure a seamless EventDay experience. Our flexible and open technology platform can be configured for a range of events, including holiday light shows, festivals, corn mazes, golf tournaments, galas, and more. With free event websites, free email marketing, integrated donation options, versatile ticket configurations, and EventDay tools for efficiency and fun, TicketSignup is built to manage your entire event experience. For more information, visit: www.ticketsignup.io.
About RunSignup
RunSignup is the leading event solution delivering the art of technology to endurance events and nonprofits. More than 26,000 events use our free and open platform to register 7 million annual participants, raise more than $1 billion and grow their events. Our expertly crafted, open and all-in-one solution powers event revenue generation and supporter engagement through flexible registration, free event websites, free email marketing, integrated fundraising, and a suite of RaceDay tools. No subscriptions, no plans, no monthly fees.
To find out why customers like the Philadelphia Marathon, American Cancer Society, AACR, and RaceDay Events use RunSignup, visit www.runsignup.com.