Running USA Releases 2019 U.S. Running Trends Report
March 19, 2019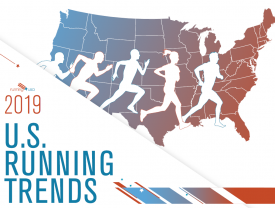 Continuing a gradual industry slowdown, the number of people registering for U.S. road races declined by 1 percent last year
DETROIT (March 19, 2019) – The number of runners registering for organized races in the U.S. was down slightly in 2018, continuing a five-year gradual drawback of mass participation in recreational road racing. The industry peaked in 2013, when 19 million runners crossed the finish line at U.S. running events over all distances.
The number of people registering for U.S. road races in 2018 compared to the previous year declined 1 percent from 2017 to 18.1 million, according to data compiled by Running USA with the help of a consortium of The ACTIVE Network, imATHLETE, Race Roster, RunSignUp, Race Entry, Run Reg and many individual events.
"We are especially appreciative of all the registration firms and events that contributed their registration information to produce our second annual U.S. Running Trends Report," said Rich Harshbarger, CEO of Running USA.
This was the second year that Running USA has analyzed race entries vs. race finishers, and allows for a year-over-year comparison of the registration data for the first time.
"The report confirms what many in the industry already know: there continues to be a gradual slowdown of road race participation," Harsbarger said. "However, the performance of our traditional distance classes, such as the 5K, 10K and half marathon, remains very strong. The declines are observed in non-traditional race distances and events."
The majority of runners of U.S. road races in 2018 continued to be women, who typically make up 60 percent of a road race field.
The most popular distance is still the 5K, which racked up 8.9 million registrations in 2018.
For access to the full summary and U.S. Running Trends report, visit the report page on RunningUSA.org
About the Report
Collecting road race data was used for Running USA summary reports beginning in 2018 with the 2017 racing year. This data presents a broad picture of the health of the sport by sharing registration totals rather than participants who crossed a finish line. Thanks to the help of registration companies (ACTIVE Network, imATHLETE, Race Roster, RunSignUp, Race Entry, Run Reg) who contributed data, as well as major race producers, and individual races, which allowed Running USA to create a customized process to collect information and summarize recent data trends.
About Running USA
Running USA is a tax-exempt, not-for-profit organization devoted to improving the status and experience of distance running and racing in the United States through collective marketing and promotions, information and communications within the industry and to the national media, services to events and industry members, and the development of American world class stars. It seeks the advancement of the sport and the provision of value to each of its members' events and businesses. For more information, visit RunningUSA.org