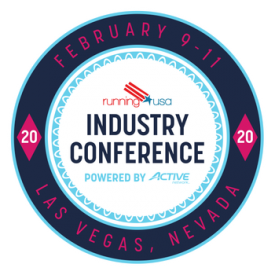 LAS VEGAS (June 12, 2019) – The 2020 Running USA Industry Conference is on target to be the best attended event in the 17-year history of the annual conference, and prospective speakers can apply now to share their knowledge in Las Vegas.
"Every year we raise the bar for our speakers," said Christine Bowen, Running USA vice president of programming, partnerships and operations. "If you are a trend setter or a game changer who is making waves in the running business, we want to hear from you."
The 2019 conference will be held Sunday to Tuesday, February 9-11 at Caesar's Palace, which is both the conference meeting venue and the host hotel.
Those interested in participating as a speaker or facilitator of a discussion session can now submit an application for consideration. The first round of applications will close on Friday, June 28.
Please submit your information before this deadline for review by the conference planning committee. If needed, a second round of submissions will be held in late July/early August.
In 2020, we're seeking knowledgeable individuals who can continue our tradition of offering the most relevant and engaging content in the following subject areas:
Marketing
Branding
Sponsorship
Course Operations
Social Media and Digital Engagement
Technology
Safety, security and contingency planning
Expo and VIP
Runner Experience
Industry Trends
To learn more and apply to speak at the 2020 event, please fill out this application.
*IMPORTANT NOTE: Running USA does not pay conference speakers or panelists, nor provide lodging or travel stipends. Speakers register to attend the conference and pay the regular attendee price.*
About the Running USA Industry Conference
Since its origins as a small gathering of Running USA's founders in Southern California in 2004, the Running USA annual conference has grown to becoming the best-attended, most esteemed gathering of running industry professionals from around the USA and the world. Now moving locations each year, the conference has been held in Los Angeles, San Diego, Savannah, Houston, San Antonio, Orlando, New Orleans, San Juan, Puerto Rico and now Las Vegas.  Register here.
About Running USA
Running USA is a tax-exempt, not-for-profit organization devoted to improving the status and experience of distance running and racing in the United States through collective marketing and promotions, information and communications within the industry and to the national media, services to events and industry members, and the development of American world class stars. It seeks the advancement of the sport and the provision of value to each of its members' events and businesses. For more information, visit RunningUSA.org