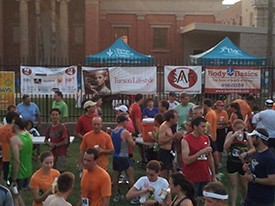 TMC Funding Enables High Quality Running Events in Tucson
Run Tucson announces that Tucson Medical Center has signed on as the 2014-2015 title sponsor for the five races that Run Tucson produces on behalf of the Southern Arizona Roadrunners (www.azroadrunners.org).
Tucson Medical Center is the title sponsor for these 2014 Run Tucson-produced events:
– January 26: TMC Sunrise at Old Tucson Trail Run
– February 23: TMC BE TUCSON Women's Only 5k and Men's Mile
– May 31: TMC Meet Me Downtown 5k Night Run and Walk, the RRCA National 5k Championship
– September 1: 44h Annual TMC Saguaro National Park Labor Day 8-Miler and 5k
– October 19: TMC Get Moving Tucson Events: TMC A-Mountain Half-Marathon, Tucson Lifestyle 5k, and Cox Charities One-Mile
The final three events comprise the Gabe Zimmerman Triple Crown, a 3-race series that memorializes Gabe Zimmerman, killed in the 2011 shooting of U.S. Congresswoman Gabriel Giffords.
"Tucson is a great city that needs to live up to its potential.  TMC is the best possible partner for helping us make a better city," says Run Tucson's Randy Accetta.  "Not only do they help fund our races, but they're leaders in the City of Tucson's "Move a Million Miles with the Mayor" campaign, they provide funding and promotion for a major bike-helmet program for children, and they help countless other wellness events.  Plus, on a personal level, our daughter was born at TMC.  I love the place — and it's a great fit for the running community."
Says VP for Community Benefit, Julia Strange, "As Tucson's community hospital, TMC's vision is to improve the health of people in our community.  The Run Tucson and Southern Arizona Roadrunner events are a perfect way for people in Pima County to get involved in their community, be physically active and have a great time doing it, all of which are important components of health.  We love that the Run Tucson/SAR events are appropriate for all levels of fitness, are spread out around our beautiful city, and really encourage the youth of our community to be physically active.  Being physically active is essential to our health, yet so many of us struggle with making it a regular part of our lives.  We hope that by continuing to sponsor events such as these in our community, we will help more people find activities they enjoy that will improve their health and ultimately their quality of life."
About Run Tucson (www.runtucson.net): Run Tucson produces running events and coaches runners of all ages and abilities.  With a mission to make Tucson better through runnings, Run Tucson partners with the Southern Arizona Roadrunners, a leading running club.  Run Tucson race directors and coaches are certified by the RRCA. 
About Tucson Medical Center (www.tmc.az.com): TMC is Southern Arizona's leading provider for emergency care and pediatric care (including Tucson's first Pediatric Emergency Department), with top-notch intensive care units for adults, children and newborns. Other specialty areas include women's, maternity, cardiovascular, orthopaedic, neuroscience, hospice, imaging and senior services.
TMC earned certification as a Primary Stroke Center, accreditation as a Chest Pain Center, and the Gold Plus Achievement Award for stroke programs from the American Heart Association/ American Stroke Association.
TMC HealthCare is Southern Arizona's locally governed nonprofit system, the corporate entity that includes Tucson Medical Center and Saguaro Physicians.