RRCA Hosts Another Successful RunPro Camp
July 23, 2019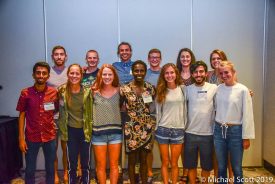 Arlington, Virginia – Thirteen up-and-coming distance runners, who recently graduated from colleges and universities throughout the country, attended the 8th RunPro Camp in Arlington, VA from July 11-13. Hosted by the Road Runners Club of America (RRCA), RunPro Camp is designed to encourage, support, and provide information for more top-ranked, post-collegiate, U.S. distance runners to stay in the sport and pursue a professional running career domestically and internationally.
The interactive camp provided a forum for runners to meet coaches and athletes from professional training centers around the U.S.  It was also an opportunity for attendees to learn about sponsor relations, determine what type of representation would be best, find out more about USA Track & Field (USATF), and USATF Foundation resources and long distance running initiatives, including the Professional Road Running Organization (PRRO).
"We've seen some great successes from RunPro Camp attendees in the past three years, and we look forward to watching our 2019 attendees' running careers," noted Jean Knaack, RRCA executive director. "The success of RunPro Camp attendees, on both the roads and on the track, highlights the important of our ongoing efforts to attract and keep talented distance runners in our sport."
The following attendees where funded to attend RunPro Camp, based on the application and selection process:
Colin Abert – Penn State University
David Barney – Florida State University
Annie Frisbie – Iowa State University
Paul Hogan –  University  of Massachusetts Lowell
Frank Lara – Furman University
John Lewis – Clemson University
Janelle Noe – University of Toledo
Josette Norris – Georgetown University
Dhruvil Patel – North Central College
Andrea Shine – University of Iowa
Jaci Smith – Air Force Academy
Rachel Walny – Bowling Green State University
Matt Welch – University of Portland
An excellent line-up of speakers addressed the RunPro Camp attendees. Presenters included Michael Scott, USATF Long Distance Running Committee Executive Chair who shared insights on the USATF Running Cicruit; Scott Davern, USADA Education Program Development Coordinator, who discussed the important topics of clean sport, drug testing, and compliance; John Hricay,of Hawi Sports Management and Chris Mengel of Elite Runner Management talked about the benefits of agent representation vs. self-representation; and Jack Wickens, of the AthleteBiz and the USATF Foundation who covered financial opportunities beyond prize winnings and conventional sponsorships. Wendy Shulik from WendyCity Productions outlined important concepts when working with the media, including conducting a post-race, on-the-spot style interview with an athlete to highlight the importance of having a crafted personal message ready to go in the event of a race win or an on-camera, post-race interview opportunity.
Several distance training groups also had representatives in attendance, including Team USA Minnesota, HOKA ONE ONE NAZ Elite, ZAP Endurance, District Track Club, and Atlanta Track Club Elite. These representatives served on a panel discussing running and competing in an organized, post-collegiate environment. HOKA ONE ONE NAZ Elite Coach Ben Rosario also gave a presentation on building relationships in the sport.
A VIP dinner for RunPro Camp attendees, speakers, and supporters was held on Friday, July 12. The dinner featured a keynote address from top American distance runner Aliphine Tuliamuk  Tuliamuk shared her story of coming to the United States from Kenya to compete at Wichita State where she ended up a 14 time All-American. She offered perspective on the resolve and determination required to establish  a professional running career.
 About the RRCA: The Road Runners Club of America (RRCA) is the oldest and largest national association of running organizations and runners dedicated to growing the sport since 1958. The RRCA champions the development of community-based running clubs and events that serve runners of all ages and abilities in pursuit of health and competition. The RRCA's vision is to see an organized running club established in every community in the U.S. To learn more, visit: www.RRCA.org
#          #          #