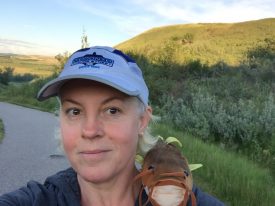 Canadian Sheryl Sawyer's certification signifies the program's overall growth and international appeal
ARLINGTON, Virginia – In September 2016, Sheryl Sawyer of Cayuga, Ontario in Canada became the 200th person to successfully complete the Road Runners Club of America's Race Director Certification course.
"After serving two years as a volunteer race director for a small fish-themed 5K race in Dunnville, Ontario, I'm expanding this year to a full race weekend," Sawyer said. "The expansion of my responsibilities made me think it made sense to expand my knowledge base for managing events."
Launched in November 2012, the RRCA's Race Director Certification Course was created with help from some of the more prominent names in race management, including Dave McGillivray of the Boston Marathon, Phil Stewart of the Cherry Blossom 10 Miler & Road Race Management, and Don Kardong of the Lilac Bloomsday Run. They, along with others, shared their expertise on what topics and areas that are important for race directors to understand and apply.
Sawyer's certification represents an emerging trend for the RRCA's Race Director Certification: its popularity with and value to race directors located internationally. Sawyer became the second native of Canada to complete the course, and fourth RRCA Certified Race Director outside of the United States. In addition, there are currently nine other international residents – from Canada, China, Guatemala, Hong Kong, Romania, Singapore and the United Kingdom – enrolled in the course.
The course consists of six hour-plus modules that participants view online, while also utilizing information covered in Stewart's Organizing Running Events textbook. Topics covered in the course include creating a timetable, sponsorships, municipal relations and much more.  Course participants must earn no less than 85% on the 100-question quiz to receive a pass score; then submit a notarized Code of Ethics to obtain certification.
Since enrolling in the course in May, Sawyer has already begun using what she's learned in planning the Mudcat Marathon Weekend, set for Dunnville, Ontario on May 12-13, 2017.
"I chose to follow the RRCA Race Director Certification program because I was impressed with the scope of information and resources presented," said Miller. "I find I've learned a lot and am now even better prepared to take on my newest project!"
As part of the Race Director Certification, the RRCA also been able to offer a Certified Race Director insurance program, designed to cover running clubs and event management companies that include an RRCA Certified Race Director. Those who have obtained certification receive slightly reduced liability insurance rates for events they own and can also request coverage if they are hired to manage events for a third party.
To learn more about the RRCA Race Director Certification program, visit www.rrca.org/programs/race-director-certification/ or contact Andy Smith, RRCA Programs Coordinator, by email at programs@rrca.org.
About the RRCA: The Road Runners Club of America (RRCA) is the oldest and largest national association of running organizations and runners dedicated to growing the sport since 1958. The RRCA champions the development of community-based running clubs and events that serve runners of all ages and abilities in pursuit of health and competition. The RRCA's vision is to see an organized running club established in every community in the U.S. To learn more, including membership benefits, visit: www.RRCA.org
###