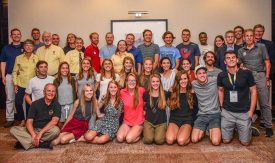 Interactive camp hosted in Arlington, Virginia, July 11-13 provides tools and resources for top recent post-collegiate runners to pursue a professional career
Arlington, VA – RunPro Camp, designed to help educate and inform distance runners who are interested in pursuing a professional running career after college, is now accepting applications. Runners who are completing their NCAA eligibility by June 30, 2019, along with runners who have completed eligibility within the last 24-months, are encouraged to apply. The application can be found at www.RunPro.com.  The deadline to apply is May 31.
The 2019 RunPro Camp will be held July 11-13 in Arlington, Virginia, near the national office location of the Road Runners Club of America (RRCA). The camp is a companion to www.RunPro.com, a website designed to assist promising distance runners from collegiate to professional running.
The goal of the RunPro Camp is to provide important information to assist top collegiate runners  to help them understand how to stay in the sport and pursue a professional running career on the roads, track, trails, or cross country.  By giving post-collegiate runners tools for staying in the sport, the RRCA's goals is to see continued success by U.S. athletes at national and international competitions.
"This isn't a camp to learn how to run or how to run better. It's a camp to give promising U.S. distance runners the knowledge and guidance they need to pursue a professional running career," outlined Jean Knaack, RRCA executive director. "We've seen a significant number of RunPro Camp alums having success on the roads and track, including 2018 USA National Marathon Champion Brogan Austin." 
RunPro Camp provides opportunities for runners to: meet coaches and athletes from professional training groups; learn about sponsorship opportunities; determine what type of representation (agents) would be best; learn about elite athlete recruitment; how to seek financial and health care support; along with various USATF rules governing professional running including, anti-doping compliance.
RRCA will provide travel and lodging assistance to qualified runners. The RRCA anticipates supporting up to 20 athletes for the two-day 2019 RunPro Camp.
About the RRCA: The Road Runners Club of America (RRCA) is the oldest and largest national association of running organizations and runners dedicated to growing the sport since 1958. The RRCA champions the development of community-based running clubs and events that serve runners of all ages and abilities in pursuit of health and competition. The RRCA's vision is to see an organized running club established in every community in the U.S. To learn more, visit: www.RRCA.org