ROUVY releases the augmented city tours around the European capitals with language localization
October 15, 2021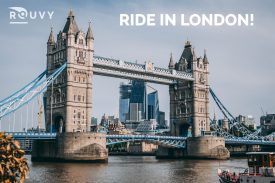 Prague, Czech Republic / ROUVY publishes a new route update, enabling athletes and cycling enthusiasts to ride or race in London, Prague, Berlin, Vienna and other megapolises around the world. The release comes with the extension of the platform catalog and localization package, making the app and web now available in English, French, Czech, German, Italian and Spanish.
Prague, Czech Republic / October 15, 2021 – If anyone ever dreamed of a trip around the European capitals, he or she can do one from home on ROUVY's indoor cycling reality platform now! The release brings the possibility to cruise through and get familiar with the impressive historic streets and modern city centers of Prague, Berlin, Budapest, Vienna, London and many others. To complete the native feel, the app UI now provides the most popular European languages for convenience.
World's Best
The team@ROUVY is happy to present new, exciting ride content – athletes can now select the place they want to explore from the new route folders and enjoy riding in "Cities". They can get the best out of travelling around the world online by checking out the "Explore The World" and "Continents" folders. The new folders in the catalog structure save time and help to get easily and quickly to the desired destination in a glimpse. Aside from the European capitals, there are multiple beautiful downtowns of Sydney, Dresden, Rotterdam, Florianópolis, Yokohama and many more. The newly released 'panorama view' feature is enabled by default – 360° panoramic views show up automatically during the ride at the available spots. Start your adventure and enjoy the augmented rides and races in amazing locations!
Endless diversity
Today ROUVY provides up to 500 famous and iconic cycling locations in the augmented mode allowing for racing and group riding, and up to 10,000 video routes for individual exploration or race recon.
Criteriums
From the city tours: Yokohama, Brazilia and Dresden can be looped and ridden as multi-lap racing. Altogether, there are 14 routes on ROUVY to do crits on, as a race event; and many more are to come.
The updated and extended ROUVY catalog can be accessed and explored here.
About ROUVY
ROUVY is a digital racing platform that enables athletes to cycle and run the world, online and train with friends for fun. The application simulates real outdoor riding on a bike using high-quality, geo-located videos and augmented reality. With ROUVY, anyone can enjoy the endless variety of legendary and exotic locations from the comfort of one's home. Today ROUVY is an official partner of the elite cycling races, all over the globe, such as La Vuelta, Tour de Suisse, IRONMAN and many others.
Media Contact:
Yuriy Ryashko, press@rouvy.com, +420 778 488 077