ROUVY Regulars launched with new features at the iconic Lago di Garda and Alpe d'Huez
January 12, 2023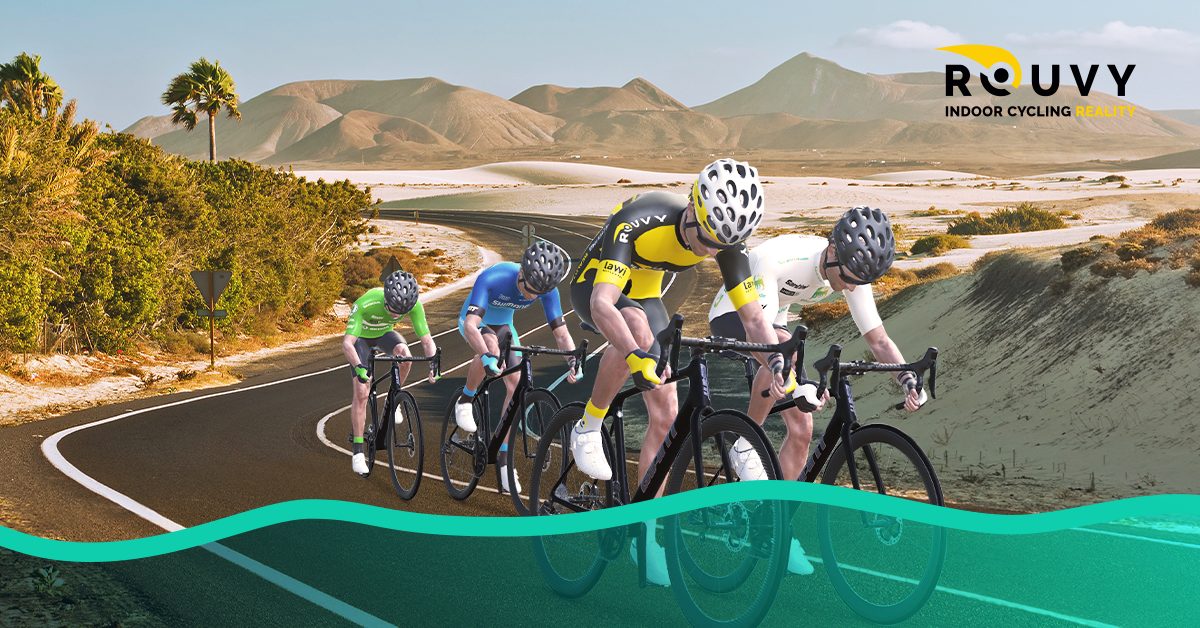 ROUVY, the augmented indoor cycling platform, rolled out a huge number of virtual iconic locations together with multiple usability improvements and a Virtual Group Leader. Additionally, 'ROUVY Regulars', as an event series, is a follow up to New Year's resolutions when people are more keen to start with something that will keep them fit. Unfortunately, majority of these resolutions fail due to lack of consistency. That's why ROUVY now offers weekly scheduled rides that will help riders build up their cycling routine and keep them fit.
January 12th, 2023 /ENDURANCE SPORTSWIRE/ – ROUVY continues to bring the joy of fitness and new legendary virtual locations to the home of every athlete and fitness enthusiast around the globe. Based on augmented real videos from across the world, riders and triathletes can experience real-life cycling and triathlon racing through the winter and all year round. With a precise 1:1 simulation of outdoor cycling, a ROUVY rider never has to ride the same location twice which turns mundane workouts into fun adventures across distant and exotic parts of the planet.
Route Catalog Updates
France: Alpe d'Huez, Col du Telegraph – Galibier, Croix-de-Fer (St-Jean), Col du Granon, Col du Chaussy (St-Jean), Col d'Izoard
Italy: Lago di Garda, Monte Zoncolan, Mortirolo, Trento, Tre Cime di Lavaredo, other lakes areas
North America: GFNY New York City, Custer State Park Bison Wildlife, Galena Pass North, Riding Mountain National Park, Qu'Appelle Valley, Vancouver – Horseshoe Bay
Japan: Tour de Tohoku, Tour de Taki, Tour de Kyushu, Chiba prefecture
Others in Europe: Alpenbrevet – Grimselpass, TORTOUR Schwägalp, Challenge Salou, Beskyd Tour, Biggesee
The complete catalog and other route updates can be traced and filtered on ROUVY's web.
New usability features
– 'Personal Record' replay selection is improved – your PR can automatically be replayed on a toggle-on (instead of searching it among all historic records)
– the avatar labels turned optional (fully enjoy the beautiful route scenery and the immersive realistic rider look)
– 'ride mode' selection screen (the ride parameters can be updated right before a ride)
– new type of a group ride with an automated GR leader (this feature is not available for the community yet, only for the official events hosted by the ROUVY team itself)
– deep links connecting web and app actions (for the convenient and easy catalog browsing and opening of the selected routes, workouts or events in the app immediately)
– immediate 1-click registration to events (races and group rides are immediately accessible right from the app dashboard)
– the route-completion status is now visible right in the route tiles (for the previous partially-completed and resumable rides)
– estimate of how long it could take you to ride a route (this info is present right in the route tile)
– in-app-wrapped web pages (no need to leave the app to check the web for any details or results)
Automated Group Ride Leader for Social Rides
With the Virtual Group Leader, athletes can join group rides with other cyclists from around the world, and have the virtual robo-leader guide them through the course, controlling the pace at a predefined level. This feature takes the load off the GR leader who, otherwise, usually takes the load in leading the pack. Also, it ensures that the leader makes it through the course (if challenging) to the very finish line, allowing the group to take advantage of the group magnet and ride more at its own comfortable pace. At the moment the feature is available only for the official events set by ROUVY admins (the possibility for the community to do the same is coming soon, while anyone can check how it works in the series of ROUVY REGULARS).
ROUVY REGULARS
ROUVY launches ROUVY Regulars to reach cycling enthusiasts worldwide and to convince them that riding on a regular basis can help to build a positive habit. A wide variety of online rides and races is prepared by the team at ROUVY to match the rider's fitness level. Riders can choose from 4 categories: Hobby riders, Avid cyclists, Femmes and Triathletes. Each category has its unique selection of rides and races that are happening on a specific day and are repeating every week. Some will be challenging, while others will give some breathing space.
ROUVY Regulars' rides are led by a Virtual Group Leader and are focused on stable pace, motivation, and camaraderie. The main idea behind ROUVY Regulars is to provide everyone with a convenient structured schedule. The schedule for these events is set in advance in multiple time zones, so anyone can sign up to participate in the rides that fit into one's daily agenda. Additionally, during the rides, riders can chat together via the Discord ROUVY channel for more fun and engagement.
The registration is free of charge and available here with the schedule. (The recurring scheduled events will take place through the whole winter. To take advantage of the new features, the ROUVY apps should be updated to 2.19.0 version or higher.)
###
//Press visuals are here.
About ROUVY
ROUVY aspires to become the #1 choice for athletes in endurance eSports and fitness, based on virtual tourism. With over 1 million riders from cycling and triathlon communities all over the world, the platform has become a top choice and virtual training home for both world-level pros and casual hobby riders. The family-friendly ROUVY app enables athletes to cycle around the globe indoors, ride together for fun or compete in official race locations. With over 8,500 video routes, including historic races, and 15,000 workouts, ROUVY is the go-to destination for cyclists of all levels who train and compete from home.