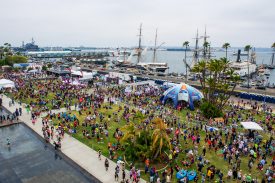 Race series is offering 24-hour worldwide series sale with best prices of the year; Local fun runs and running community celebrations to take place around the country
SAN DIEGO, CA – Rock 'n' Roll Marathon Series will celebrate Global Running Day with a 24-hour worldwide series sale, offering the best prices of the year on Wednesday, June 7. This year commemorates the 20th year running of the first Rock 'n' Roll Marathon in San Diego—an event that has truly changed the face of running forever and put "the fun in the run."
The Series will encourage people around the world to celebrate the joys of running and inspire others to get moving by hosting running events in dozens of Rock 'n' Roll Marathon Series cities from Dublin to San Antonio. Runners can hit the pavement, register for a race, and celebrate with their local running community.
"We are thrilled to support Global Running Day again this year and it's especially exciting since it comes just days after celebrating 20 Years Running in San Diego," said Laurie Gestal, Marketing Director. "We currently have eight cities outside the United States, so we truly believe that running is an international sport that can be enjoyed all over the world. We hope our active community can enjoy the special series-wide sale and join us at one of our exciting events this year."
Since 2009, Global Running Day (previously known as National Running Day) is a day to take part in some type of running activity around the world. The festivities annually take place the first Wednesday in June.
On Global Running Day, the Rock 'n' Roll Marathon Series features its best prices of the year. With dozens of events, the series likely features one in your backyard. Or if wanderlust has taken hold, there are plenty of cities around the country and the world to choose from including San Diego, Madrid, Philadelphia and even Chengdu, China.
More runners choose the Rock 'n' Roll Marathon Series than any other running series with 600,000 athletes from all over the world participating in one of 30 destination events in 2016. The series of running events are known for scenic routes lined with live music and entertainment, heavy medals and unforgettable headliner concert experiences. The musically-themed races help spearhead an active lifestyle movement that provides unique entertainment and welcoming environment for runners of all abilities.
For more information or to register for an event on Global Running Day, please visit RunRocknRoll.com or follow @RunRocknRoll on Twitter.
About the Rock 'n' Roll Marathon Series
With more than 600,000 runners taking part in 30 destination events around the world every year, more runners choose the Rock 'n' Roll Marathon Series than any other running series. Established in 1998, Rock 'n' Roll Marathon Series' simple idea of making running fun has transformed the U.S. running landscape by infusing the course with live bands, cheer teams and entertaining water stations, creating a block-party atmosphere for participants and spectators alike.
Over the 20-year history of the Rock 'n' Roll Marathon Series, charity partners have raised more than $335 million through the events for a variety of worthy causes. Race weekend kicks off with a free Health & Fitness Expo showcasing the latest in running gear, sports apparel, health and nutritional information and much more. Events culminate with an entertaining finish line festival and Toyota Concert Series featuring some of the biggest names in music, with past headliners including Kid Rock, Rascal Flatts, Macklemore & Ryan Lewis, Pitbull, FloRida and Andy Grammer. Further information about the Rock 'n' Roll Marathon Series can be found online at RunRocknRoll.com.
###
Media Contact
Hilary Friedman, 858-275-9435, hfriedman@competitorgroup.com
Dan Cruz, 619-925-7671, dcruz@competitorgroup.com