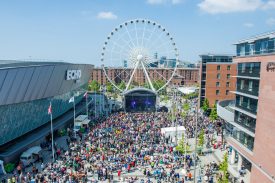 -2016 spring race generated ₤7.26 million of economic activity; 28,398 hotel room nights
-16,000 runners from 54 countries around the world participated in the 3rdannual event
-Musically themed road race returns 26-28 May, 2017
LIVERPOOL, UK – 3 November, 2016 – The 2016 Rock 'n' Roll Liverpool Marathon & 1/2 Marathon generated a total economic impact of about ₤7.26 million for the city over the weekend of 27-29 May, according to a study conducted by American-based San Diego State University. Currently, registration is up 70% since last year with 7,000 participants already signed up for the 2017 race, which will take place on 26 – 28 May.
Since the inaugural race in 2014, the event has brought more than ₤14.6 million to the city of Liverpool and has more than doubled participation numbers in the last three years. Much of this can be attributed to the growth of the event with organizers adding multiple distances over the course of the weekend to welcome runners of all levels.
"This event truly is an entire weekend long running festival," said Stacey Campbell, Vice President of Global Events for the Rock 'n' Roll Marathon. "We have grown exponentially since we first introduced this race to Liverpool in 2014, and now we are one of the largest running events in the UK. There is such a strong running community in Liverpool and we hope to continue to support that as well as bring in more international runners to experience this great city."
The total economic impact was generated by event participants and spectators who purchased or took part in accommodations, food & drink, entertainment, transportation, and retail shopping. The report also showed that the event filled 28,398 hotel room nights.
"We are thrilled with the success and growth of the event and the spotlight it has put on Liverpool as a running destination," said Assistant Mayor of Liverpool, Councillor Wendy Simon. "The race courses give runners a great tour of the city for locals and tourists alike while the Rock 'n' Roll Marathon brings the entertainment to make it one fun-filled running festival."
The 2017 race returns with a marathon, half-marathon, 5-kilometer, and 1 mile distance over the weekend of 26-28 May 2017.  The 5K will return on Saturday 27th May with the marathon, half-marathon, and 1 mile race held on Sunday 28th May. The marathon and half marathon will once again start and finish by the Albert Dock, one of the most visited attractions in the UK and a World Heritage Site. The races feature scenic views of Liverpool's stunning docks, rich architecture, spectacular museums and historic commercial districts. In true Rock 'n' Roll fashion, live bands and cheering spectators will line the route, concluding with a celebratory finish line festival and concert in front of the Echo Arena.
For more information or to register for the race, please visit RunRocknRoll.com/Liverpool.