ROAD iD Unveils New Partnership Opportunity to Promote Runner Safety in Run Specialty at The Running Event (TRE) in Austin
November 30, 2022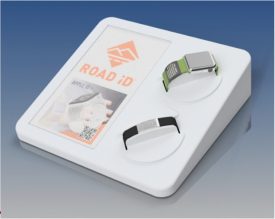 Shop Owners Can Earn Cash, Provide the Perfect Training Perk, and Score Sweet Savings for Customers and Employees
/ENDURANCE SPORTSWIRE/ – ROAD iD, leader of wearable identification products for runners and cyclists unveils new and improved in-store partnership program geared for run specialty shops to help runners train safely with the peace of mind that wearing ID provides.
The partnership will help store owners earn cash, provide the perfect perk for training groups and score their customers and employees sweet discounts on all ROAD iD products and will do so without the hassle of integrating into POS systems.
Located at booth number 1706 near Implus and Sketchers, ROAD iD will debut the in-store ROAD iD product display and highlight all the program details. Shop owners will have the opportunity to opt-in to the program and bring the display in stores by early 2023.
"We're pumped to re-launch an in-store program for run specialty stores. These stores are a vital part of the running industry and form the backbone of vibrant running communities. We consider it an honor to partner with them in such an elegantly simple way. This partnership will enable us to save lives, fuel adventure, and provide priceless peace of mind," says Edward Wimmer, Co-Founder and CEO of ROAD iD.
To learn more about this program, Allison Howell, head of Strategic Partnerships, is available to meet before the show or by visiting booth 1706 during the conference.
About ROAD iD
ROAD iD makes wearable identification for people on the go. Their mission is to make wearing ID as common as a seatbelt, and since 1999, they've provided peace of mind to millions of active individuals, empowering them to do what they love and worry less with their info on-hand. Should the need arise, their ID products communicate who you are, who to contact, and the medical information necessary to ensure proper care is received. Countless stories and testimonials from customers over the years are a testament to the power of wearing ID, with many customers citing they might not be alive today had it not been for their ROAD iD. For more information, visit ROADiD.com.
About The Running Event
Launched in 2006, The Running Event (TRE) is North America's premier run specialty trade show. Each year, it attracts thousands of industry professionals seeking the latest in footwear, apparel, gear, and services. New for 2022, TRE expands with Switchback at The Running Event, a dedicated space within the exhibit hall showcasing top outdoor brands. With numerous opportunities for peer learning, interactive and forward-looking conference programming, and dynamic product demonstration and discovery, The Running Event is the can't-miss trade show for run and outdoor specialty. For more information, visit www.therunningevent.com/.