Registration is Open for the Coaster Run
October 14, 2016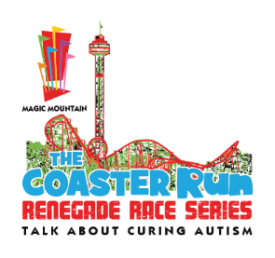 Six Flags Magic Mountain Hosts the Coaster Run in 2017
Renegade Racing, the premier race management company in Southern California, announced today registration is open for the 2017 Coaster Run. The event, which will take place on April 2nd, has a new home at Six Flags Magic Mountain, "The Thrill Capital of the World." The Coaster Run offers a 5K, 10K, and 1K Kids Run, which will weave through the theme park's 260-acres to give participants a spectacular view of the park's world-class roller coasters and attractions.
Established in 2005, the Coaster Run is a celebrated favorite for the Southern California running community.  The 2017 event benefits Talk about Curing Autism, a national organization based in Southern California. TACA is dedicated to educating, empowering and supporting families affected by autism. Participants will have the opportunity to create teams and fundraise for the charity.
"Talk About Curing Autism (TACA) is excited to partner with Renegade Racing for the 2017 Coaster Run.  The funds raised will help further our mission of providing education and support to families living with autism, and we are incredibly grateful to Renegade Racing for choosing TACA as the beneficiary of this great race," said  Lisa Ackerman, Founder & Executive Director of TACA.
"We are thrilled to have a new home at Six Flags Magic Mountain," said Jonathan Pauley, Race Director. "It's an exciting change to have a new venue, new courses, and a new theme to the event. We welcome TACA as the new charity partner and are dedicated to raising funds for the autism community through The Coaster Run and are looking forward to continuing the event as a major destination running race in Southern California."
Event Information
What:
The Coaster Run
5K, 10K Run/Walk & 1K Kids Run in Bugs Bunny World
When:
April 2, 2017
7am 5K, 10K Run/Walk Start
9am 1K Kids Run Start
Where:
Six Flags Magic Mountain, Valencia, CA
26101 Magic Mountain Pkwy
Valencia, CA 91355
For registration and to create a fundraising team, visit: www.coasterrun.com
About Renegade Racing:
Renegade Racing produces running, triathlon and adventure sports events throughout Southern California.  www.renegaderaceseries.com
About TACA:
Talk About Curing Autism (TACA) is a national non-profit 501(c)(3) organization dedicated to educating, empowering and supporting families affected by autism. For families who have just received the autism diagnosis, TACA aims to speed up the cycle time from the autism diagnosis to effective treatments. TACA helps to strengthen the autism community by connecting families and the professionals who can help them, allowing them to share stories and information to help improve the quality of life for people with autism. http://www.tacanow.org/