Receive 25% Off Race Entries for the 8th Annual She Rocks the Trails 10K & 25K Run
February 5, 2019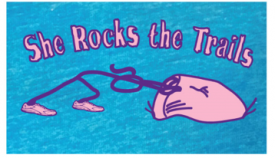 Auburn, CA – The She Rocks the Trails 10K and 25K is back for its 8th annual race to inspire, engage and educate women of all backgrounds. On Saturday, July 6 women worldwide will come together and run to empower women with courage and confidence on and off the trails. Runners will start their 10K and 25K journeys at 7 a.m. at the Auburn Dam Overlook in Auburn, California. 
What inspires you on and off the trails? Starting February 5, receive 25% off all race entries with promo code SHEROCKSFEB through February 19. Click here to register and receive this limited time discount for She Rocks the Trails. 
"She Rocks the Trails celebrates women runners of all levels," said Race Director Julie Fingar. "Whether it's someone's first time running or they're an Olympic athlete, we all come together as a community and run for strong, powerful women around the world. It's amazing to see runners and non-runners come together to support women and their success on and off the trails – it's what makes this race one of the most respected races in the United States."
All registered runners will receive a She Rocks the Trails technical shirt, water bottle and swag bag filled with post-race goodies. Each year, finishers also receive a unique inspiration stone with a motivational word on it as a reminder of the hard work and strength each woman possesses. To fuel up post-race, each runner receives a power pancake, egg brunch and a scoop of Baskin Robbins ice cream or rainbow sherbet. 
The 2019 She Rocks the Trails 10K and 25K race beneficiary is Fit for Girls, which works to improve the overall health and wellbeing of adolescent girls. Fit for Girls and She Rocks the Trails empowers and supports women to cross the first of many finish lines in life. Participants receive lessons on nutrition, time management and friendships, and the program teaches them how to make healthy choices, set goals and overcome obstacles while training for a 5K race. 
She Rocks the Trails 10K & 25K
Auburn Dam Overlook
855 Pacific Street, Auburn, CA 95603
7:00 a.m.
Julie Fingar, 916.765.6021, [email protected]