Racesafe™ Provides All-In-One Event Medical Management for Boston Athletic Association Races
February 7, 2023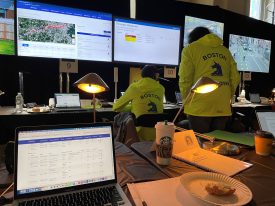 Leading Cloud Based SaaS platform streamlines B.A.A.'s medical needs across all Events
San Francisco, CA /ENDURANCE SPORTSWIRE/ – The Boston Athletic Association and RACESAFE™ are working together to help consolidate and streamline the management of event day medical needs across the B.A.A.'s portfolio of events, including this year's 127th Boston Marathon. RACESAFE™ will provide the B.A.A. and its medical team with its robust, user-friendly mobile interface that offers real-time, GPS based communication, reporting and documentation of all medical incidents providing instant situational awareness during the races.
"With participant safety of the utmost priority, we are always looking for ways to streamline our critical medical operations," said Chris Troyanos, Medical Coordinator for the B.A.A. "RACESAFE™ was used at our 2022 races, and has been a reliable tool as we plan for the future. It has been effective in fast tracking our need for situational awareness in real time – a critical component for our events."
In addition to its powerful event day applications, RACESAFE™ helps events and their medical partners recruit and organize the event's medical team and provides detailed post event analytics to help prevent future bad outcomes. It offers event participants a secure HIPAA compliant portal to share their personal medical information for a more comprehensive response to an event medical emergency.
Developed in 2012 by Dr. Anthony Luke, Director of the UCSF Human Performance Center, RACESAFE™ has been used by over 300 events around the world, including the San Francisco Marathon, the Toronto International Marathon, Twin Cities Marathon, the Flying Pig Marathon, Cowtown Marathon, the USA Cup Soccer tournament, Special Olympics International, and many others.
"We developed RACESAFE™ to address a critical need: How to simplify event medical operations for all constituents in the event ecosystem" said Dr. Luke. "From instant information for race organizers, to medical team recruiting, to engaging and reassuring event participants their health and safety are of utmost concern, RACESAFE™ helps events seamlessly connect everyone on a simple, secure platform, making medical operations easy."
For more information contact: Anthony Luke MD, Founder – anthony@iracesafe.com