RACE RESULT Introduces Groundbreaking Timing System "Ubidium" to Redefine Race Timing Standards
September 11, 2023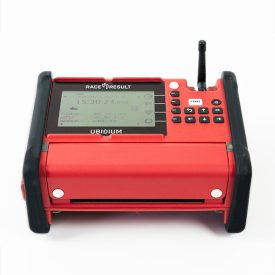 RACE RESULT, the pioneering force in sports timing technology, has now officially launched
/ENDURANCE SPORTSWIRE/ – RACE RESULT, the pioneering force in sports timing technology, has now officially launched "Ubidium", the most advanced and accurate timing system on the market. This cutting-edge solution promises to elevate the experience for timekeepers and event organizers alike, introducing numerous innovative features and streamlining the processes at sports events.
Compact Design and Robust Performance
With only 4.1 kg (9 lbs), Ubidium boasts a remarkably compact and lightweight design in comparison to all other timing devices. It handles both active and passive (UHF) timing technology. Its durable and waterproof construction enables seamless operation even in the harshest of conditions. The absence of a lid ensures that the display and buttons remain effortlessly accessible. The extensive connectivity options further enhance its versatility, while the enhanced RACE RESULT timing algorithm guarantees unparalleled accuracy in results.
"We embarked on a journey with our customers during the conceptual phase, envisioning their ideal timing system. Many of these aspirations have been fulfilled with the creation of Ubidium. The small form factor and high-quality display make timing with Ubidium a whole new experience. Together with the hot-swappable batteries and the numerous connection options, we can now offer an unmatched solution. Our engineers have poured their dedication and innovation into crafting a truly new product that marks a historic milestone for our company and for all race timers," emphasizes RACE RESULT CEO Soenke Petersen.
Groundbreaking Foldable UHF Antenna
In the coming weeks, the first Ubidium systems will be delivered to customers worldwide. Currently, Ubidium is available as an active solution, where the loop cable connects directly to the device. The new foldable ground antenna for timing with passive transponders is expected to be introduced in early 2024. This antenna will be connected directly to Ubidium with a single plug.
"The UHF antenna embodies the true essence of the Ubidium project's innovation. Having UHF readers integrated into each mat segment opens new horizons for our customers. A single system will cover timing points as wide as 23 meters (75 ft). The battery life is much higher compared to conventional decoders, and customers can easily extend and shorten the antennas. Additionally, we were able to reduce the weight and further optimize the shape. The initial test events with the new ground antenna have gone very well," shares CTO Nikias Klohr on the current developmental progress.
For more in-depth insights into the features of Ubidium, kindly explore the company website at www.raceresult.com/en/systems/ubidium.php. Feel free to reach out to the RACE RESULT team at info@raceresult.com for any further inquiries.
About RACE RESULT:
RACE RESULT is the innovation leader in the market of sports timekeeping technology. With headquarters in Germany and eight offices around the globe, RACE RESULT offers a complete timing package — from race numbers and event supplies to timing transponders and systems using active or passive timing technology, including timing and scoring software.