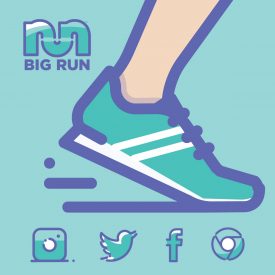 (Baltimore, MD) – Big Run Media, a full-service branding, social media and creative design agency has released the Race Directors Guide to Digital Marketing, now available for download: http://bit.ly/BigRunMedia_RDGuide 
As a follow up to the previously released Race Directors Guide to Social Media, and Race Directors Advanced Guide to Social Media, the digital marketing edition provides even more in-depth guidance for how race directors can take advantage of social media, including best practices for paid advertising, setting up and optimizing successful campaigns, new information on Google Ads, and much more.
"In today's world, it's essential for Race Directors to leverage digital marketing – not only to drive awareness of their events, but also to generate registrations," said Thomas Neuberger, Founder and Managing Partner of Big Run Media. "Social media is an ever-changing ecosystem and the understanding to comply and adapt to these changes is fundamental to the success of any business." Big Run Media created the Digital Marketing Guide to help novices and experts alike make the most of their time and budgets.
In the guide, you will learn:
The importance of branding, quality content and posting frequency
A review of Ambassador Programs & Contests
How to grow your audience and increase engagement on social media (organically!)
Best practices and tips for successful Facebook Ad campaigns
Why you should use Google Ads to attract new participants

 

How to optimize ads to get the lowest cost per conversion
To download the free guide, visit: http://bit.ly/BigRunMedia_RDGuide  
About Big Run Media 
Big Run Media, LLC is a full-service branding, digital marketing, and creative design agency that focuses on active lifestyle brands. Their mission is simple: to develop your brand message into peak form. Much like an athlete preparing for an A race, Big Run Media tackles endurance event marketing and advertising challenges with strategic passion, planning, and know-how. Their work results in more athletes on your start line, and more devoted fans of your brand. To learn more about Big Run Media, visit: https://bigrunmedia.com/