Purina Pro Plan Named Title Partner of the 2023 Pittsburgh Pet Walk
December 7, 2022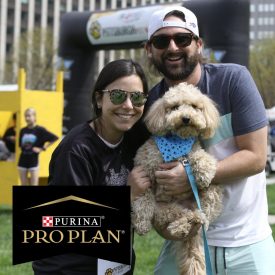 Purina Pro Plan Performance Team will show off their athletic talent at the Finish Line Festival during race weekend
PITTSBURGH, PA (December 7, 2022) /ENDURANCE SPORTSWIRE/ – P3R announced today that Purina Pro Plan will be the title partner of the 2023 Pittsburgh Pet Walk, part of the DICK'S Sporting Goods Pittsburgh Marathon Weekend of Events. In addition, the high-flying dogs of the Purina Pro Plan Performance Team will show off their talent and entertain all ages at the Finish Line Festival during race weekend.
"Purina Pro Plan is all about encouraging people to get active with their dogs and discover how Pro Plan Sport's game-changing nutrition fuels dogs' active lifestyles. The Pittsburgh Pet Walk is the perfect event to showcase that mission and give back to the community," said Joe Hitzler, Purina Pro Plan brand manager.
Part of "Family Day" on May 6, the Pittsburgh Pet Walk Fueled by Pro Plan will welcome four-legged friends and their owners to cover a 1-mile course around Point State Park. Proceeds from the event will benefit Animal Friends, a full-service companion animal welfare organization serving the pets and people of Pittsburgh and the surrounding area.
"Race weekend is truly for everyone, and each year participants are excited to include all their family members – including their pets – in the fun of race weekend," said Troy Schooley, P3R CEO. "We are thrilled to have Purina Pro Plan on board this year to take the event to the next level. We had the largest Pittsburgh Pet Walk ever in 2022, and we are looking forward to hosting even more dogs in 2023."
Celebrating 15 years, the 2023 DICK'S Sporting Goods Pittsburgh Marathon will inspire the entire family to MOVE with an event for everyone, including the DICK'S Sporting Goods Pittsburgh Marathon, UPMC Health Plan Pittsburgh Half Marathon (with a walking division!), FedEx Pittsburgh Marathon Relay, UPMC Health Plan / UPMC Sports Medicine Pittsburgh 5K, Chick-fil-A Pittsburgh Kids Marathon, Sheetz Pittsburgh Toddler Trot and the Pittsburgh Pet Walk Fueled by Pro Plan.
For more information or to register for the 2023 DICK'S Sporting Goods Pittsburgh Marathon Weekend of Events, visit www.thePittsburghMarathon.com.
# # #
About the DICK'S Sporting Goods Pittsburgh Marathon Weekend of Events
The Pittsburgh Marathon was held annually from 1985-2003. After a five-year hiatus, the DICK'S Sporting Goods Pittsburgh Marathon was relaunched in 2009 and debuted with a sold-out field of 10,000 participants. It has grown each year since, evolving from a single race day into a weekend of events for the whole family that annually attracts nearly 40,000 runners.
Read more at: ThePittsburghMarathon.com
FACEBOOK: DSGPM   TWITTER: @PghMarathon   INSTAGRAM: pghmarathon
About Nestlé Purina PetCare
Nestlé Purina PetCare creates richer lives for pets and the people who love them. Founded in 1894, Purina has helped dogs and cats live longer, healthier lives by offering scientifically based nutritional innovations. Purina manufactures some of the world's most trusted and popular pet care products, including Pro Plan, Purina ONE, Fancy Feast and Tidy Cats. Our more than 8,700 U.S. associates take pride in our trusted pet food, treat and litter brands that feed 51 million dogs and 65 million cats every year. More than 500 Purina scientists, veterinarians, and pet care experts ensure our commitment to unsurpassed quality and nutrition. Purina Pro Plan is a leader in the advanced nutrition category, with more than 140 targeted formulas to help your pet thrive throughout every stage of life. For more information, visit www.proplan.com or follow @ProPlan on Twitter, Instagram, or Facebook.
Purina promotes responsible pet care through our scientific research, our products and our support for pet-related organizations. Over the past five years, Purina has contributed more than $150 million towards organizations that bring, and keep, people and pets together, as well as those that help our communities and environment thrive.
Purina is part of Nestlé, a global leader in Nutrition, Health and Wellness. For more information, visit purina.com or subscribe here to get the latest Purina news.
About P3R
P3R is the engine behind Pittsburgh's greatest races. We strive to inspire any and all to move with us. Best known for organizing the acclaimed annual DICK'S Sporting Goods Pittsburgh Marathon, P3R runs a variety of other high-quality races, events, and health and fitness programs throughout the Pittsburgh region. While many of our races attract some of the nation's highest-profile professional athletes, we offer activities for all ages and ability levels. Anyone and everyone is invited to #RUNwithP3R! Read more at: P3R.org
FACEBOOK: RUNwithP3R  INSTAGRAM: RUNwithP3R  TWITTER: @RUNwithP3R