PTO Asian Open Gets 'Thumbs Up' From Athletes – As Singapore Return Confirmed For 12-14 April 2024
November 8, 2023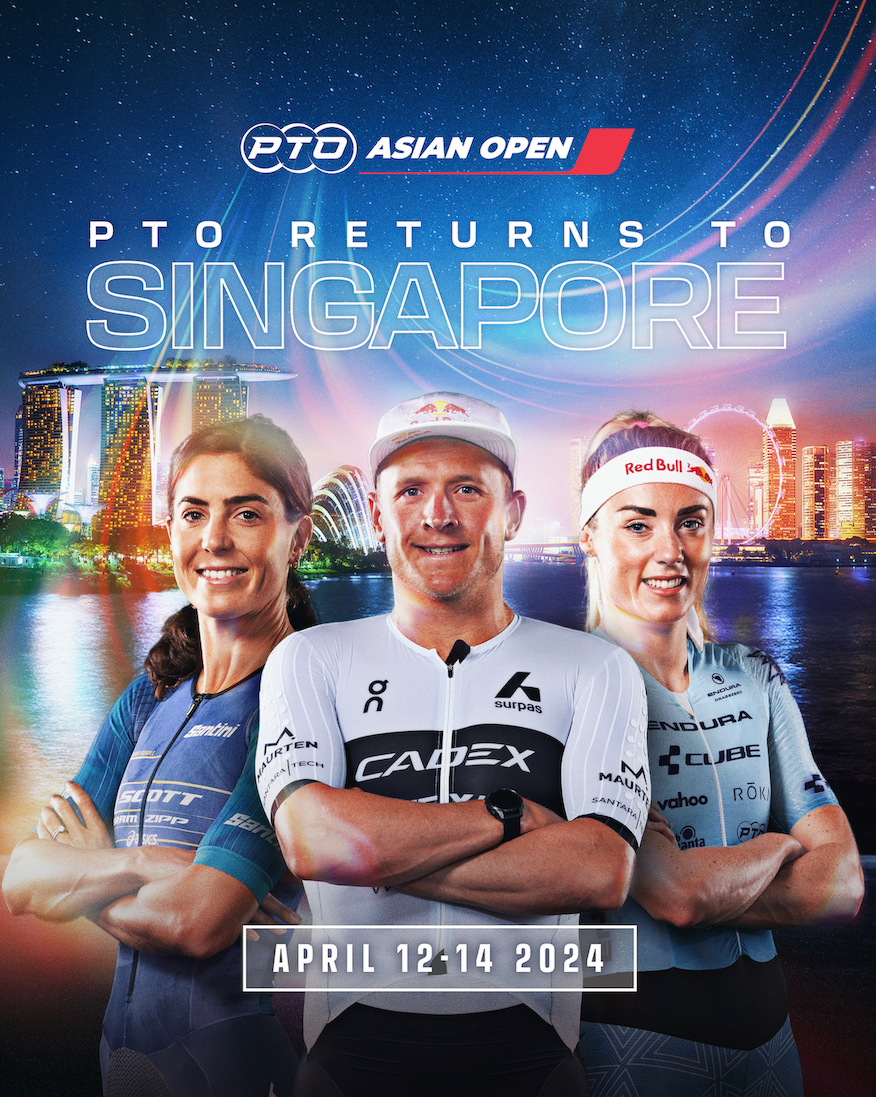 Singapore, 8 November/ENDURANCE SPORTSWIRE/ – The Professional Triathletes Organisation (PTO) has confirmed the 2024 PTO Tour will return to Singapore on 12-14 April, 2024, staging 100km triathlons races for female and male professionals and experienced amateurs* as well as two duathlons.
Whilst PTO World #1's Kristian Blummenfelt and Ashleigh Gentle claimed the pro titles in the Lion City in August this year, it was the overwhelming vote of confidence from the participants that has helped ensure a repeat of the swim, bike and run-packed weekend. With 92% saying they would recommend the triathlon and duathlons to friends; 85% scoring the experience as excellent or very good in the post-race surveys; and 'atmosphere' being voted the thing people most enjoyed*.
Places go on sale at 4pm Singapore time today here for the 100km experienced amateur triathlon and here standard (4.5km Run/32km Bike/4.5km Run) and longer distance (9km Run/64km Bike/9km Run) duathlons that will take place on the morning of Sunday 14 April, 2024. Demand is expected to be high.
Roy Teo, Chief of Industry Development, Technology & Innovation from Sport Singapore commented:
"We are always looking at opportunities to bring in a wider variety of sporting events to Singapore, especially those that are innovative. With swimming, cycling, and running being among the top five sports here, the PTO Tour naturally becomes an attractive addition to our sporting calendar. Having the best athletes competing at the event provides an exciting opportunity for the community to rally together and cheer them on. We also hope that these athletes can be an inspiration to future generations of local triathletes. Following the positive feedback from the amateur participants in the first year, we hope that PTO will continue to deliver an amazing experience for the athletes participating in the 2024 PTO Tour race."
Singapore Tourism Board's Executive Director for Sports Wellness, Ong Ling Lee, added:
"We are excited to see Singapore on the 2024 PTO Tour and look forward to welcoming the world's top triathletes and amateur participants back to our vibrant city next April. With Singapore's iconic cityscape as the backdrop, the PTO Asian Open adds to our impressive calendar of unique experiences, offering participants an unforgettable opportunity to swim in the bay unlike anywhere else in the world."
Speaking on behalf of the PTO, CEO Sam Renouf said:
"Singapore was a big weekend for the PTO because it represented exactly how we're looking to take longer distance triathlon to a broader audience – through world class athletes going head-to-head in iconic locations and broadcast to a global audience. Add in the 6,000+ amateur athletes who took part in an equivalent 100km triathlon, two duathlons and a 5km music run and it created the kind of festival atmosphere that we aspire to and are working hard to take to more stops around the world next year."
The spectacular swim will again take place in Marina Bay and whilst the exact bike and run course details won't be confirmed until early in the new year, they are expected to be similar to this year when the bike featured a 16km circuit with awe- inspiring views of the city. Plus four laps of a 4.5km run on flat, paved surfaces that took competitors along the waterside, around the ArtScience Museum, through the Gardens by the Bay and then back towards the world famous Marina Bay Sands Hotel.
Team Singapore athletes past and present also got involved and joined the 1,000 experienced amateurs for the 100km triathlon in five different relay teams – and after completing his swim leg with his colleagues, Calvin Sim (bike) and Jasmine Goh (run), Singaporean Olympic Champion Joseph Schooling, said:
"Overall, I had a lot of fun. Rounding the buoys was something different, I'm used to turning in the pool. Overall, I'm just happy to finish. I got a little nervous and excited a few days leading up to this. It was nice to be in a race atmosphere, in terms of nutrition and sleep time – that's something I really missed. Going 20 times what I used to in terms of distance…it was out of my comfort zone and that was fun. Hopefully I get a chance to do it again next year and I'll be better prepared."
Experienced triathlete and Talking Triathlon podcast host, Tim Ford, was also amongst the amateurs who competed in the inaugural 100km event and didn't hold back with his praise. Talking on his podcast after the event, he said:
"I raced the 100km Age Group race in the morning, which is basically the same course [as the pros] and to race in that event in Singapore at Marina Bay Sands in the centre of the city and the bike course was legitimately one of the best bike courses I've ever ridden on and I've done thirty-five 70.3's around world. It was phenomenal for me."
The PTO's return to Singapore in 2024 comes hot on the heels of announcing Ibiza as the home of the PTO European Open (28-29 September). Further stages of the 2024 PTO Tour will be announced in the coming months.
-ends-
*Source: PTO post-race survey for 100km experienced amateur triathlon and standard and long duathlons on Sunday 20 August, 2023.
For Further Information
Anthony Scammell E: Anthony.Scammell@protriathletes.org
About the Professional Triathletes Organisation
The PTO is a new body, co-owned by the professional athletes, seeking to elevate and grow the sport of Triathlon and take it to the next level. Each PTO Open is raced over 100km (2km swim, 80km bike and 18km run). In 2023, the calendar consisted of the PTO European Open on 6 May and was followed by the PTO US Open in Milwaukee on 4-5 August and then the PTO Asian Open in Singapore on 19-20
August. With the season underpinned by the new PTO World Rankings, helping to create a compelling season-long narrative in the sport for the first time.
*About the Marina Bay Swim Qualification Standards
Athletes must be competent swimmers to participate in this event. During registration you will be asked to confirm that you have completed at least three (3) open water swims. You must also submit proof that you have completed an open water swim of a distance of 1.5km or greater since 1 January 2024 at a pace of 2min30sec per 100m or faster (i.e. a time of 37min 30sec for 1500m or 47min 30 sec for 1900m). This proof must be uploaded to your registration before 11.59pm SST (GMT +9) on Sunday 17 March, 2024. Valid proof includes finisher certificate or screenshot of a race result showing event date, athlete name, swim distance and swim time. Athletes who do not have suitable proof will be able to join swim trials organised by MetaSport in Singapore. More information will follow on the PTO's website. Please register your interest in the registration form.
Note: On race day, athletes must complete the first 200m of their swim within 5 minutes. Athletes who fail to do this will be removed from the swim course.