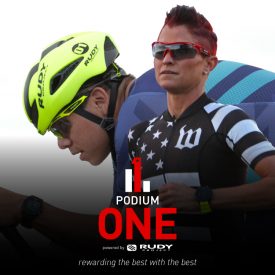 Rudy Project's Age Group Racer Rewards Program Undergoes Name Change
Denver CO – Rudy Project is announcing that they are revising the name of their age group winner rewards program, formerly known as 'Project Podium,' to simply 'Podium One.'
"In order to prevent confusion between our age grouper rewards program and USA Triathlon's new men's elite development program based at Arizona State University, also titled Project Podium, we've elected to alter the name of our program," said Paul Craig, Co-Founder and Co-CEO of Rudy Project North America. "We value our relationship with USA Triathlon, and look forward to partnering with them to better promote the Podium One rewards program and ensure the best are rewarded with the best.  The name also created some confusion with some Age Group winners assuming all three podium spots would receive gear -in reality it's just the winners of each age group in eligible sanctioned races of 140.6 miles or longer."
Podium One is an initiative that rewards North America's fastest age group triathletes with award-winning Rudy Project performance eyewear and helmets.  Age group racers that take first in their age group in any eligible ultra-distance sanctioned triathlon in the United States and Canada can earn a free, top-of-the-line Rudy Project Boost 01 road aero helmet and a pair of Tralyx sunglasses. Athletes must be a permanent resident of the USA or Canada in order to qualify. For a complete list of program rules please visit www.rudyprojectna.com/podium-one.
"A significant percentage of our most engaged members compete in ultra-distance triathlons," said Chuck Menke, Chief Marketing Officer for USA Triathlon. "We believe these athletes will jump at the chance to qualify for Podium One rewards, and we're throwing our full support behind the program and our partner, Rudy Project."
Rudy Project North America and USA Triathlon have a long-standing relationship that spans almost two decades. As the Official Helmet and Eyewear of USA Triathlon, Rudy Project promotes helmet and eye safety, as well as product education, to USA Triathlon's annual membership of over 140,000 triathletes. Rudy Project also provides performance-elevating gear to athletes on the USA Triathlon National Team and the USA Paratriathlon National team.
Such support doesn't go unnoticed by USA Triathlon's membership – in results released last year from a member survey Rudy Project helmets were ranked the top-rated helmet in terms of quality. More than 90% of survey takers wearing, training, and racing in Rudy Project helmets rated them a 4 or 5 (Very Good, Excellent).  The findings underscore the Italian brand's reputation as the #1 Helmet at Kona for the past 7 years running. Rudy Project's performance sunglasses came in a close second with 83 percent of respondents rating the quality of Rudy Project's sunglasses a 4 or above out of 5. Among the survey's 14,786 respondents, Rudy Project received the highest rating overall out of 20 helmet brands. The nearest competitor lagged 15 percentage points behind, with only 75% of wearers rating it 4 or above.
"It's that kind of feedback from athletes that goes to show how popular a program like Podium One will be with USA Triathlon's membership and beyond," said Craig. "Our helmets are aerodynamically engineered, race-tested by tens of thousands of athletes all over the world, and that produces a product that we're incredibly proud of.  We've launched Podium One, because we simply want the best racing in the best and reward the time, energy and dedication needed to win an age group in an ultra-distance triathlon."
The prize pack offered through Podium One is worth up to $625 USD, and triathletes that win their age group can submit their results online for verification at www.rudyproject.com/podium-one to redeem. Athletes will be able to choose from the entire Boost 01 road aero (without visor) color line up, which includes Stealth Black and eye-popping Pink Fluo. To complement their helmet, athletes can also select a frame from the award-winning Tralyx family, including the regular Tralyx, Tralyx XL for additional coverage, or the new Tralyx SLIM, designed specifically for athletes with narrower faces. That, coupled with customer-forward warranties like Rudy Project's 6 Year Crash Replacement Guarantee and Lifetime Replacement Lens Guarantee, make this an unbeatable prize package for the age grouper at the top of their game.
Winning athletes can submit their information and race results for verification online at www.rudyprojectna.com/podium-one. Athletes that won their age group in any 2018 ultra-distance triathlon prior to the announcement of the program are also eligible to redeem retroactively. Full terms and conditions of the initiative can be found online at www.rudyprojectna.com/podium-one as well as a full list of eligible races. The program will run through December of 2018.
About Rudy Project
Italian Crafted Sunglasses, Helmets, Goggles, + Rx/Prescription Eyewear Since 1985 • 7-Time #1 Most-Worn Aero / TT Helmet at IRONMAN® World Championships • Unbeatable Replacement Lens Guarantee • www.rudyprojectna.com
Media Contacts:
Simone Cordery-Cotter – simone@gorace.pro 949-272-2476