Picky Bars Announces Partnership With Paula Radcliffe
April 18, 2017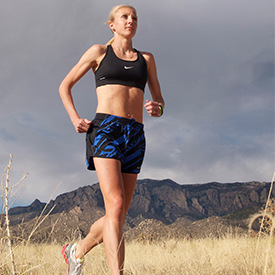 Energy bar company partners with women's marathon world record holder to launch UK arrival at London Marathon.
BEND, Oregon. (April 18, 2017) – Thanks to a new partnership, Picky Bars will extend its mission of "Fueling Great Experiences" to the other side of the Atlantic. The Oregon-based energy bar company founded by professional athletes Jesse Thomas, Lauren Fleshman, and Steph Bruce—is pleased to announce their UK arrival with a multi-year partnership with current women's marathon world record holder and beloved Brit, Paula Radcliffe. The six-time world champion and world record holder will act as an ambassador to help bring awareness and expand opportunities for the brand across the pond.
Paula said, "I love Picky Bars and am so excited about them coming to the UK. The excellent taste and delicious flavors make fueling your body for the workout and day ahead feel like a treat at the same time. Honestly, they are a great natural food option that also tastes amazing!"
"Paula was my first sports hero, and what drew me to her then hasn't changed. She's smart, tenacious, generous, and real," said co-founder Fleshman. "Six years ago she went out of her way to encourage me, not just in my racing but in business, offering to help bring Picky Bars to Europe one day. Athletes supporting one another to take risks, to be leaders, to bring value, that's what the sports world needs more of."
Paula and Lauren will be at the London Marathon Expo in the Alton Sports booth (#513) on Saturday, April 22nd to kick off the partnership. Lauren will be available from 11am-5pm, with Paula dropping by 3:30-4:00pm. They'll chat with runners about training, racing and nutrition, and will have a variety of Picky Bars flavors for sampling.
Picky Bars is distributed in the UK by Fit Brands, a specialty sports sales and marketing group servicing the run, bike and triathlon markets. Retailers include Alton Sports, Wiggle, Runner's World, Moti and other specialty shops.
To learn more about Picky Bars, visit pickybars.com and follow on Facebook, Twitter and Instagram. 
About Paula Radcliffe
Paula Radcliffe is acknowledged as one of the finest athletes of the modern era. As well as many achievements on the track, Paula has established herself as the master of the ultimate distance race, the marathon. She holds the women's world record and won the London Marathon in 2002, 2003 and 2005. In November 2004 she won the New York Marathon in breath-taking style and in 2005 she took the gold medal at the World Championships in Helsinki for the same distance. Radcliffe was awarded an MBE in June 2002 and later that year was voted the BBC's Sports Personality of the Year. 
About Picky Bars
Picky Bars creates real food products to "Fuel Great Experiences." Founded in 2010 in the home kitchen of husband (Jesse Thomas) and wife (Lauren Fleshman) with friend (Steph Bruce)—all professional endurance athletes—they set out to create a real food bar that was built for performance. The 100 percent athlete-owned business is based in the outdoor mecca of Bend, Oregon. Through wholesome products, great service, and some quirky humor, Picky Bars strives to support and inspire athletes of all levels to reach for their goals and live life to the fullest.
# # #
For More information:
Nadine McCrindle
Marketing Director
[email protected] / +1 (541) 797 9797