Picky Bars Announces New Packaging and Subscription Options
July 24, 2014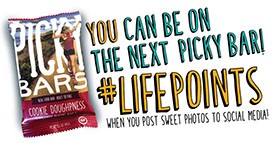 BEND, OR  – July 24, 2014 – Picky Bars, the pro endurance athlete founded energy bar company, updated its packaging and added new options for its subscription service, the Picky Club. Among the changes Picky Bars is giving anyone a chance to be featured on a Picky Bars package by submitting photos through social media channels using #lifepoints or emailing [email protected]. Initially the company plans to feature six new photos, one photo on each of its flavors, every three to six months.
In addition to the brand changes Picky Bars also announced new options for the Picky Club. The company now offers automatic delivery of 12, 18, or 24 bars a month and gives customers full control to switch the flavors and number of bars delivered monthly.
Over the coming months Picky Bars will work with its retail partners across the country to roll out the new brand and packaging.
Along with the announcement from Picky Bars the company's co-founders recounted the process of change on their personal blogs.
Lauren Fleshman, Brand Guardian and Co-Founder, spoke on her blog (asklaurenfleshman.com) about the company's vision beyond providing world class nutrition saying, "My goal has always been for someone to pull a Picky Bar out of a bag and think, "Dayum! This makes me want to be great. This makes me want to work hard / have more fun / support someone / be more courageous in the path I'm choosing for myself." And this is exactly what happens every time I see the new packaging. If we do this well, I believe we can use food in a new way. We can literally fuel people like us to do amazing things, through our stomachs, but also through the content we provide and the connections that we facilitate. We can make pro athletes more accessible, and amateurs more energized and unified."
On his blog (leapdaysports.com) Jesse Thomas, CEO and Co-Founder, talked about genesis of exploring the brand evolution and what Picky Bars has always been about, "We talked about our story ­the ups and downs, the crazy and lucky breaks that put us on map, the many hours of debate, the struggles and successes. We also talked about what we wanted to become. And as might be expected, Picky Bars meant a lot of different things to each of us. But we all agreed that the essence of Picky Bars could be encapsulated in four qualities: Dream, Support, Trailblaze, Enjoy it."
Picky Club Captain and Co-Founder, Stephanie Bruce, spoke about the connection to early loyal customers on her blog (stephandbenbruce.com), "Our passion for our Picky Club members and all our loyal fans is why we have all these exciting changes for Picky Bars as a whole. Making these changes will enable us to take Picky Bars to the next level, and it is simply impossible to convey how excited we are!"
About Picky Bars
Picky Bars was founded in 2010 by professional athletes, Lauren Fleshman (2 x USATF 5k Champion & 5 x NCAA Champion), her husband Jesse Thomas (4 x Wildflower Triathlon Champion), and friend Stephanie Bruce (Sub 2:29 Marathoner & Celiac). The company began when Lauren and Steph set out to create a gluten and dairy-free real food bar for Jesse's training. Working in Lauren and Jesse's kitchen with an abundance of trial and error, the friends created a scientifically balanced real food bar with a 4:1 carbohydrate to protein ratio (ideal ratio for recovery).The company has seen rapid growth over the last three years through its Picky Club subscription offering and its national and independent retail partners.
For press inquiries and interview opportunities please contact [email protected].
Product shots and brand assets for press use can be found at: https://brandisty.com/pickybars