PhD Nutrition Inc. – Now Informed Sport Certified!
April 25, 2016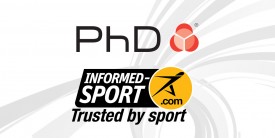 Vancouver, B.C. April 25, 2016 – PhD Nutrition Inc., known for premium sports nutrition products and internationally recognized for quality and innovation, has taken quality sports nutrition to the next level. PhD Nutrition Inc. is now Informed-Sport Certified. PhD products carrying the Informed-Sport Logo assure athletes that every batch of product is tested for substances considered prohibited in sport by the World Anti-Doping Agency (WADA).
In the industry, PhD Nutrition Inc. has long been known for clean, quality products. Having PhD products with Informed-Sport certification is an additional layer of accountability in a nutritional supplement industry where athletes need to be cautious about their nutrition. PhD Nutrition Inc. has become one of only 90 sports nutrition brands worldwide who are Informed-Sport certified. "Athletes who use our products can count on this rigorous quality control when they are planning for their nutritional needs" says PhD Nutrition Inc. President and CEO Greg Cowan.
About Informed Sport 
Informed-Sport was created in 2008 and currently there are in excess of 420 products registered on the programme. Informed-Sport provides quality assurance for more than 80 brands/manufacturers in 15 countries across the world. www.informed-sport.com
About LGC
LGC is an international life sciences company with more than 50 years' experience in anti-doping. The company provides a wide variety of testing and measurement services, employing more than 2,000 people and operating in 22 countries worldwide. www.lgcgroup.com
About PhD Nutrition
PhD Nutrition is known for innovative and inspirational sports nutrition products that taste great and deliver serious results. Whether you are a world-class athlete, or just beginning in the gym, PhD believes that your requirements are just as important. We work closely with leading product research and development experts to ensure that ingredients used within PhD products are at the forefront of scientific sports nutrition development. Team PhD works with a number of athletes and sports teams chosen for their ideals, ethics and ambition to promote quality PhD sports nutrition. For more information, visit www.phdnutrition.ca.