Performance Run by Ciele Athletics
March 23, 2023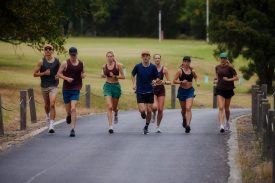 A new collection of elevated essentials designed for every runner
MONTREAL (Mar, 23, 2022) /ENDURANCE SPORTSWIRE/ – Ciele Athletics, the high-end technical performance running brand from Montréal, Québec, is proud to announce the launch of Performance Run (PR), a new collection of elevated essentials designed for every runner – regardless of pace, speed or destination.
PR: First-in-class performance and protection for your run
The new Ciele Performance Run running-apparel collection includes men's and women's quick-dry t-shirts, lightweight singlets, a new 5 inch run short featuring a reverse stitched no chafe liner, OEKO-TEX® fabric running tights and premium performance sports bra, in an assortment of trend-leading colorways.
This collection delivers ultimate performance and comfort thanks to its liberal use of no-stitch construction, as well as the introduction of a fully recycled COOLmatic PLUSTM micro mesh fabric, engineered for quick drying, anti-odor action and incredible breathability in extreme conditions. Additionally, airSTACKTM technology featuring strategically engineered always-on venting technology developed for increased airflow is found in the FSTSinglet and FSTTShirt. Reflective detailing for nighttime visibility is found throughout the entire collection.
"The goal with this collection is to bring elevated details and high quality fabrics to training days and every run in between," says Jeremy Bresnen, president and co-founder of Ciele Athletics. "Superior innovation is woven throughout this collection, building off of what our design team developed when we launched Elite last year. . Nine years of designing and producing the world's most technical run ready headwear, paired with decades of technical clothing design know-how, gives our team the right insights and experience to offer this elevated collection of technical run essentials."
A stand out of the collection is the DLYShort Long Brief, a quintessential 5 inch run short with a long brief liner, using a fully recycled, mechanical stretch, lightweight woven fabric that keeps things light and breezy. It features a zippered back pocket and a reverse stitched, no chafe, COOLmatic PLUSTM long brief treated with HeiQ Smart Temp® for accelerated wicking and HeiQ Fresh® for odor control. The brief's integrated extra stretch cargo fuel and phone pocket provide the perfect storage solution for long runs.
All pieces in the Performance Run men's and women's apparel collections are backed by the company's Million Miles Guarantee and range from US$60 to US$130. The collection is available via cieleathletics.com and select retail stores worldwide.
About Ciele Athletics
Founded in Montréal, Québec, in 2014 by Jeremy Bresnen and Mike Giles, Ciele Athletics offers high-performance, durable and lightweight apparel collections designed for runners around the world. Their apparel and iconic line of caps are sold in over 30 countries, including more than 600 boutiques in North America and 300 international locations.
# # #
ALL MEDIA INQUIRIES AND REQUESTS
Justina Rapala Nielsen | FORTE MARE
justina@fmare.com
+1.310.845.6892