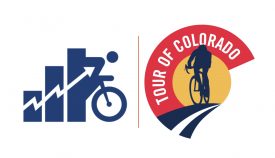 Take your Training far Beyond FTP for a Great Ride Experience
2019-04-10—(Colorado Springs, CO) — Long-time cycling industry pioneers, Hunter Allen, CEO of Peaks Coaching Group (PCG), and Dieter Drake, President of Anthem Sports, have announced an exclusive partnership for the iconic event series Tour of Colorado (ToC).
Founded as a series of high-profile Colorado road races from 2008-2010, ToC is now a series of recreational road/gravel events & tours.  
"In partnering with PCG–the key is experience," says Dieter.  "We want our participants to have the best experience possible, and we know from years of directing races that—generally speaking–those riders who are prepared for the physical demands of the course have a more enjoyable experience." 
ToC is one of the more unique event series in the US in terms of its demands. Participants are going to have to be ready for VO2 efforts on the gravel, big gear work, hard accelerations, and of course, participants will need the threshold power and muscular endurance to get them to the finish line in the front group.
"I've spent years developing plans for every type of rider–from the general enthusiast to the Olympic Champion," says Hunter. "And I can enthusiastically say that these plans are podium tested and champion approved.  They are born from the pain, suffering and sweat from thousands of athletes over the past 20 years."
ToC plans are personally designed by Hunter–taking all of the unique demands into account–and they will prepare participants for a top performance, whether they either want to thrive or simply survive.  The workouts included in these ruthlessly vetted training plans are the same workouts that Hunter uses with his own clients.
"The consistent feedback from our riders is that Hunter Allen's training plans have helped them be better prepared for our very challenging events," said Dieter Drake.
Each plan includes:
FREE Premium TrainingPeaks Account (30 Day Trial) for non-subscribers.
Exclusive access to PCG Coach moderated private training plan group on Facebook dedicated to you!
100% refund if not satisfied within 30 days of purchase
Access to exclusive Hunter Allen videos that will explain energy systems, training zones and specific aspects of the workouts contained in our training plans.
Daily email workout reminders from TrainingPeaks, includes phone app.
Special discounts for future plans, coaching and consulting!
ZWIFT: access to PCG Cycling Kit — unlock code PCGKIT32516
Participants can purchase plans here:  https://shoppeaks.com/category/training-plans/cycling-events/tour-of-colorado/
About the Tour of Colorado
The Tour of Colorado was founded in 2008 by Colorado Springs native Andy Bohlmann.  Owner of long-time event production company Sand Creek Sports, Andy has been promoting Colorado road and mountain bike events – both amateur & professional – since 1990.
Andy has partnered with Colorado resident and Anthem Sports President Dieter Drake.  Founders of one of North America's most iconic road cycling events, the Tour of the Battenkill, Anthem Sports has promoted both competitive and non-competitive events across the USA under their Great American Cycling Series banner for the past 15 years.
Friends for several years, Andy and Dieter met in 2017 to launch a new Tour of Colorado brand of cycling events throughout Colorado. Both Andy and Dieter have identified untapped, yet rapidly growing & tourism-friendly cities and regions in Colorado with the scenery and infrastructure that would be attractive to cycling tourists and travelers worldwide.  Centered around the rapidly growing craft brewery industry with great beer and local food to follow every event, the Tour of Colorado seeks to bring tourism & commerce to cycling-friendly communities across the state of Colorado.
About Hunter Allen
Legendary cycling coach Hunter Allen is the co-author of Training and Racing with a Power Meter (TRWPM), which has sold over 120,000 copies and is available in over 20 languages. He co-authored Cutting-Edge Cycling and co-developed the industry-standard TrainingPeaks' WKO+ software.  In March of 2019, a new, 3rd edition of TRWPM has been released, offering even more pioneering insight to the principles of power training.
Widely known as one of the top experts in the world in coaching endurance athletes using power meters, Hunter Allen's goal has always been to teach athletes how to maximize their training and racing potential through professional analysis of their power data. This goes hand in hand with his philosophy that a power meter helps athletes discover their true strengths and weaknesses, quantitatively assess their training improvements, and refine and maximize the focus of their training.
About Peaks Coaching Group
In 1996 after retiring from professional cycling, Hunter Allen founded Peaks Coaching Group, and has partnered with some of the bike industries most pioneering companies, such as PowerTap. In 2017 PCG partnered with CVR World Cup to create training plans for riders specifically to use in Zwift and held the first real-world/Zwift fantasy camp and race at the Velodrome in southern California. Most recently, PCG has partnered with LEOMO for development and testing of the TYPE-R real-time motion analysis device.
It's now 2019 and Peaks Coaching Group has affiliate locations in Brazil, Japan, Germany and the United Kingdom.
The cycling world continues to evolve and Peaks Coaching Group, with our great partners and sponsors, is at the forefront of data-driven training!
For more information, please visit www.peakscoachinggroup.com or contact info@peakscoachinggroup.com or follow us on social media @peakscoaching.
Media Contact:  Lee Sandstead – lee@peakscoachinggroup.com – 434-228-3512