OOFOS Launches Collaborative Sport Flex Pack with Lifestyle Brand RE-INC
July 18, 2023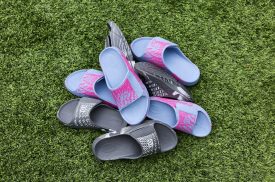 July 18, 2023/ENDURANCE SPORTSWIRE/ – Today, OOFOS, the global leader in Active Recovery footwear, announced it is launching its second collaborative Sport Flex pack with mission-driven Brand RE—INC. Started by four members of the USWNT and global sport & activism icons, Christen Press, Tobin Heath, Meghan Kingenberg and Megan Rapinoe, RE—INC exists to champion equity, creativity, progress and art. RE—INC helps you find the strength and style to reimagine everything. Both RE—INC and OOFOS believe that to reimagine our world, we must build our strength from the inside out. This begins with taking care of our bodies. When our bodies feel restored and recharged, we can take steps forward into new dimensions.
The limited edition RE—INC x OOFOS Sport Flex features the incredible artistry of design collaborators, Tobin Heath and Eddie Opara of Pentagram. The artwork is designed to inspire you to reimagine what's possible when you feel better. The uni-sex slide is available in two limited edition colors: Slate/White and Neptune/Pink, with motivational messaging inside the adjustable strap and is priced at $95.00.
"We are excited to launch this timely, second collaboration with the RE—INC team, and to showcase the incredible artistry of design collaborators Tobin and Pentagram." Says Darren Brown, Head of Marketing at OOFOS. "From the authentic connection origins between the two brands to a global collaboration, we are excited to continue working together to help any-body find its inner strength – and to reimagine what's possible when they feel better one step at a time."
The OOFOS Sport Flex is a contemporary spin on the classic slide and features a sleek adjustable upper strap for a more optimal all-around fit. The Sport Flex features OOFOS' proprietary OOfoam™ technology that delivers enhanced impact-absorbing properties that have been shown in studies to reduce load, more effectively distribute pressure and alleviate stresses on the body – helping aid in recovery. The footwear also features a patented footbed design that cradles arches for optimal support & plantar relief and the radial heel and forefoot enable natural gait motion and mechanics – making this style a top choice for athletes and artists alike.
About OOFOS
OOFOS is the global leader in recovery footwear, founded by a team of industry veterans looking to help runners and fitness enthusiasts recover better from their workouts. Made with revolutionary OOfoam™ technology, OOFOS are designed to absorb 37% more impact than traditional footwear. They reduce stress on joints to keep anyone, of any activity level, feeling their best. From professional athletes to casual walkers, OOFOS footwear will make your hard-working feet and body feel better – all you have to do is feel the OO. For more information, go to www.oofos.com.
About RE—INC
In 2019, USWNT champions Christen Press, Tobin Heath, Meghan Klingenberg and Megan Rapinoe founded RE—INC with the mission of making the world a more inclusive and equitable place for all. Now a brand bound by a joyful fervor for progress and equity, they offer eco-conscious gender-free fashion, creative goods, a membership that invites anyone to join in the pursuit of boldly reimagining our world, and content that strives to change the way women are seen and experienced in sports.