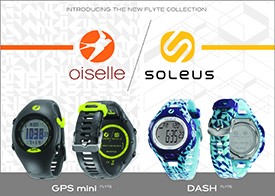 Women's Running Design Meets Sports Watch Technology with the Limited Edition Flyte Collaboration
November 18, 2014 – Seattle, WA + Austin, TX – Oiselle, the rising women's running apparelcompany has teamed up with style-driven sports watch company, Soleus to introduce the Limited Edition Flyte collaboration. Oiselle's popular geometric prints take flight on the best-selling chronograph and GPS watch, which are available in two designs and color ways. The two brands merge to deliver designed oriented technology that can transition from lifestyle to workout. Both company's commitment to their customer and products has seen them create another selection of products that is both sartorially smart and functional.
The Dash Flyte is a classic, core chronographic watch with a 30-lap memory for workout splits and 10 run data files to track the progress. The color way comes in a sky blue with a purple geometric print that pops on the sleek glossy case. The Oiselle logo is displayed prominently on the upper face with the collaboration partnership on the back plate.
The GPS Mini Flyte is a smaller version of the very popular Soleus GPS Fit watch, which was made with women runners in mind. It tracks speed, distance and pace with charging and uploading built directly into the integrated USB strap. The color way comes in a deep charcoal with a subdued geometric print in black. The Oiselle logo, back plate, strap keeper, and start/stop button is displayed in the Oiselle signature color of fresh green that highlights the functionality and design of the watch.
"It is great to be able to collaborate with a like-minded brand such as Soleus and produce a product that highlights both parties," said Sally Bergesen, Founder and CEO of Oiselle. "It is rewarding to see our designs transcend outside of apparel and on our wrists everyday. Soleus makes great running watches, and we are honored to team up with them."
"We are thrilled to team up with Oiselle and infuse their fashion sensibility and patterns with some of our best-selling women's products", said Aimee Reed, Soleus Brand Director. "This is our first product collaboration, and it is a natural fit as we too strive to bring stylish and functional product for the woman runner."
The Flyte Collaboration watches will be available on oiselle.com and soleusrunning.com for a limited time starting on November 24th. The Dash Flyte is priced at $65.00 and the GPS mini Flyte is priced at $119.00. Use #flystyle and #soleusrunning to showcase the one-of-a-kind designs.
About Oiselle:
Oiselle is an apparel company dedicated exclusively to the needs of women athletes. Based in Seattle, Washington and founded in 2007, Oiselle embodies the notion that training and competing is more than a physical activity, but also a philosophy that helps women increase their courage, confidence and health. A French word for bird, Oiselle (pronounced wa-zell) alludes to athletic prowess, and a feeling of freedom and flight. Its  customer community not only appreciates the style driven, functional apparel  that the company shows at NYC Fashion Week, but also the stance the company  takes in support of pro women runners and against current regulations that  limit athlete opportunity.
About Soleus:
Soleus is a sport watch company dedicated to supplying highly functional data monitoring with style, comfort, and ease of use at an affordable price. Based in the core athletic community of Austin, Texas, Soleus provides watches, GPS units and heart rate monitors to help each athlete find their passion for personal sport.  Soleus watches are style-driven and set apart by their simple, intuitive, easy-to-use functions that transition from sport to lifestyle.