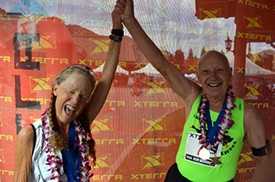 It's long been said that XTERRA is more than just a race, it's a lifestyle. Perhaps nowhere is that more evident than in Ogden, Utah where the Mayor, Mike Caldwell, was the founder of the first XTERRA race in Ogden back in 2004.
 Ogden, UT (Sept. 16,2013) – It's long been said that XTERRA is more than just a race, it's a lifestyle. Perhaps nowhere is that more evident than in Ogden, Utah where the Mayor, Mike Caldwell, was the founder of the first XTERRA race in Ogden back in 2004.
Mayor Caldwell and a collection of the coolest locals to be found anywhere rallied the entire community to bring off-road triathlon to their hometown a decade ago, and are still everyday XTERRA people. They swim, bike, and run in the mountains, have fun, eat well, laugh, and unpretentiously perpetuate the sports' motto – "Live More".
"XTERRA is a unique event for our community that has grown and progressed over the past decade into a truly world-class event. It is a huge part of our community's DNA," said Mayor Caldwell. "These athletes and race organizers have become part of our family providing an opportunity for us to form lasting friendships with people from all over the world. Not only do I enjoy the homecoming feel the event brings, it also has great economic impact for Ogden. Our hotels sell-out and our restaurants fill up. XTERRA is proof that what GOAL is doing, works. I love XTERRA. It is the perfect fit for Ogden, and I look forward to this weekend every year knowing this year will be the best yet."
XTERRA President Janet Clark couldn't agree more, saying "There really is a love affair going on with XTERRA and Utah. The community is unbelievably supportive and the volunteers are amazing. It's the only place I've ever been where people – with no affiliation to the race at all – have stopped me on the street to say thanks for bringing XTERRA to town."
XTERRA is indeed coming to town, in a big way, this weekend. Pros will race for $80,000 in prize money, dozens of cameramen will position themselves around Wheeler Canyon and the Wasatch Range to capture all the action for a nationally syndicated one-hour TV show, and more than one-thousand amateur athletes from nearly every state in the U.S. will come in pursuit of their dreams to race for an XTERRA National Championship.
The off-road tri Nationals is Saturday, Sept. 21, along with full and half-distance XTERRA Utah races open to everyone. The XTERRA Trail Run Nationals half-marathon is Sunday, Sept. 22, accompanied by 5K and 10K trail runs.  It's important to note that you don't have to be fast to join in the fun.  For some, it's just about finishing and that's okay as XTERRA is all about perpetuating the healthy, active, outdoors lifestyle.
In addition to the races XTERRA will host an expo in downtown Ogden on Friday with free kids races, vendor booths, a Paul Mitchell hair cut-a-thon for charity, and evening dinner parties. Then on Saturday from 8am to 10pm the streets shut down for a massive, community wide block party as Ogden hosts its 12th annual Harvest Moon Celebration with a wealth of family-friendly activities including live music, a farmer's market, kid's activities, arm wrestling, pumpkin decorating, downtown crit races, and fantastic fare from Historic 25th Street's incredible restaurants.
There is great entertainment to be found at Snowbasin Resort as well highlighted by the spontaneous, ecstatic, and sometimes tear-jerking displays of emotion at the finish line.  While it is an epic spot for winter sports (think 3,000 skiable acres and 3,000 vertical feet) Snowbasin is also ideal in the summer time and when the Fall colors turn the mountain landscape into a kaleidoscope of colors, it's simply spectacular.  See for yourself after Trail Run Nationals on Sunday by joining the XTERRA Nation on the Patio at Earl's Lodge with Holy Water Buffalo playing music for the Soul, followed up by the Shook Twins playing Folk as part of the Resort's free Blues, Brews, & BBQ Concert Series.
For more info and links to registration visit www.xterrautah.com, or call toll-free to 877-751-8880.
The 2013 XTERRA Nationals weekend is presented by the Utah Sports Commission, Paul Mitchell, AVIA, and the XTERRA Live More Card.  Sponsors include Snowbasin Resort, GOAL Foundation, Gatorade, Rudy Project, PowerBar, KSL TV, ENVE, Zorrel, MediaOne of Utah, the U.S. Forest Service, XTERRA Wetsuits, LifeProof, Muscle Milk, Choice Hotels, Rockwell watches, FootBalance, XTERRA Fitness, and Wasatch Distributing.
XTERRA NATIONALS QUICK FACTS
WHO: More than 1,500 athletes from 45 states and 10 countries ages 9-to-76.
WHAT: The XTERRA USA Championship triathlon and XTERRA Utah short and long course tri's are on Saturday, plus kids races, clinics, and Ogden's annual Harvest Moon Celebration, and the XTERRA Trail Run National Championship half-marathon and 5k, 10k fun runs are on Sunday.
WHEN: Friday-Sunday, September 20-22, 2013 The XTERRA Expo is from 12 noon to 6pm on Friday in Ogden The XTERRA USA Championship race starts at 9am Saturday The XTERRA Trail Run Nationals race starts at 9am Sunday
WHERE: Ogden on Friday and Snowbasin Resort on Sat/Sun
WHY: Both the XTERRA Tri and Trail Run National Championship races are the culmination of 70-race nationwide series' that end with a best-of-the-best showdown in Utah.
TV: XTERRA TV is producing an hour-long, nationally broadcast television show on the USA Championship, highlighting Northern Utah as a mecca for outdoor adventure recreation.
WEBSITE: www.XTERRAUtah.com
LAST YEAR'S XTERRA UTAH TV SHOW: www.XTERRA.tv
TRAIL RUN NATIONALS HIGHLIGHTS: www.XTERRA.tv
TWITTER / HASHTAG: @xterraoffroad /  #xterraUTAH
XTERRA ON FACEBOOK: Facebook.com/XTERRAPlanet
2013 PRESS GUIDE: http://www.xterraplanet.com/uploadedfiles/2013XTERRANationalsGuide.pdf
About TEAM Unlimited/XTERRA
TEAM Unlimited is a Hawaii-based television events and marketing company, founded in 1988.  It owns and produces XTERRA and in 2013 will offer more than 300 XTERRA off-road triathlon and trail running races in 18 countries worldwide.  In the U.S. alone nearly 200,000 participants took part in the XTERRA lifestyle last year.  In addition, TEAM TV has produced more than 300 adventure television shows resulting in three Emmy's and 42 Telly Awards for production excellence since 1990.  View samples at www.xterra.tv, and learn more at xterraplanet.com and xterratrailrun.com.