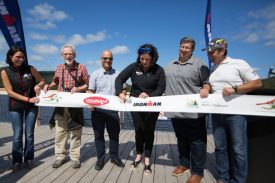 TAMPA, Fla./MONT-TREMBLANT (Québec) –  In advance of the Subaru IRONMAN® Mont-Tremblant presented by Sportium triathlon, local partners gathered for the inauguration of the Bird Observatory, which will be transformed into a bridge to become the official swim exit of the IRONMAN® events held biannually.  The dedication was held in the presence of the Mayor of the City of Mont-Tremblant, Luc Brisebois, President and Chief Operating Officer of Station Mont Tremblant, Patrice Malo, President of the Ornithological Club of the Upper Laurentians, Michel Renaud, IRONMAN Foundation® Acting Executive Director, Sarah Hartmann, and IRONMAN Mont-Tremblant Producer and Race Director, Dominique Piché.
Located at the corner of Chemin des Voyageurs and Chemin de la Chapelle, the Bird Observatory will benefit the entire community of Mont-Tremblant, as well as tourists, year-round by offering a new viewing opportunity, unique for bird lovers and wildlife and landscape enthusiasts. 
"This is called joining the useful to the pleasant, a gateway that meets the need for safety and accessibility for athletes and a bird observatory for our citizens. I warmly thank the IRONMAN Foundation for this precious legacy to the community,"  said Luc Brisebois, Mayor, City of Mont-Tremblant.
"This bridge adds to the many offerings put in place to optimize the experience of triathletes, as well as vacationers. It contributes to showcasing Tremblant's wilderness environment while demonstrating our commitment to offer quality amenities that meet international standards for sports tourism," said Patrice Malo, President and Chief Operating Officer, Mont Tremblant Resort.
"We are happy to have participated in this project and to have been part of the planning. This is a place that offers a unique opportunity to observe different species, including Common Loons, Great Blue Herons, and Great Harriers. It provides a new destination for birdwatchers and for those who simply want to enjoy the surrounding nature. Perhaps there will be a new species discovered in the years to come," said Michel Renaud, President, Ornithological Club of the Upper Laurentians
"The IRONMAN Foundation is pleased to be closely associated with this project, which is a significant legacy for the local community, as is the Aquatic Complex and the Permanent Training Road. Year after year, the Foundation supports more than 1,400 organizations and carries out 20 local projects around the world and is very proud of its various achievements in Mont-Tremblant," said Sarah Hartmann, Interim Executive Director, IRONMAN Foundation
"We were looking to optimize the swim out on our IRONMAN course. This new development will be safer and better adapted to the caliber of our events, without forgetting that it will significantly reduce the distance between the exit of the swim and the transition zone, which will delight the participating athletes! I am proud that in this seventh edition, we continue to invest in the heart of our community, "said Dominique Piché, Race Director, IRONMAN Mont-Tremblant.
Highlights 
1,500 sq. ft. Permanent Bird Observatory, accessible 365 days a year

 

Type of birds that can be observed:

 

Several species of ducks, including the Goldeneye and Crowned Harlequin, occupying the nest boxes in the nearby wetland.

 

Common species of this habitat, such as red-winged blackbirds, blackthorns and marsh sparrows

 

Endangered species (Chimney Swift and Barn Swallow) nesting nearby find insects to feed their offspring

 

List of observed species available at https://tinyurl.com/ycckntbx

In the summer, the observatory is transformed, in June and August, into a footbridge to become the official exit of the swim course for the IRONMAN and IRONMAN 70.3 Mont-Tremblant events

 

Project realized in collaboration with the City of Mont-Tremblant, Mont Tremblant Resort, the Upper Laurentians Bird Club, IRONMAN Mont-Tremblant and the IRONMAN Foundation
About the IRONMAN Foundation
The IRONMAN Foundation® creates positive, tangible change in IRONMAN race communities by engaging athletes and volunteers to participate in programs that demonstrate service through sport and commitment to community. Since 2003, over $50,000,000 has been provided through IRONMAN Foundation programs to more than 6,300 local, regional, national and global nonprofit initiatives. Through these partnerships, IRONMAN athletes are powerfully linked to the community and together we leave the IRONMAN legacy behind in our race communities long after event day. For more information on IRONMAN Foundation programs, including Team IMF, Community Fund, Your Journey Your Cause, and Women For Tri, visit www.ironmanfoundation.org.
Information: Josée Massicotte 
514 388-0169 / massicottejosee@videotron.ca