Nonaste Announces Big Savings on Popular Performance Laundry Detergents and Car Seat Protectors for Active People on Prime Day – July 11 through July 12. Early access deals beginning July 8.
June 29, 2023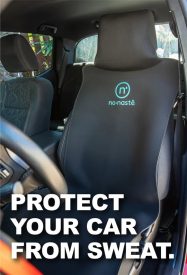 As seen in CBS, Homes and Gardens, and Gear Patrol, Nonaste offering lowest prices of the season on scientifically formulated, odor-fighting detergent and sweat/water-proof seat protectors in time for sweltering summer months
SAN DIEGO, CA – June 29, 2023/ENDURANCE SPORTSWIRE/ – Nonaste®, pronounced "No Nasty!", high-performance laundry detergents, and sweat-proof/water-proof premium car seat protectors is announcing Big Savings of 25% – 30% from July 8 through July 12 during Amazon Prime Day, just in time for workouts, runs, yoga, and beach fun in the sweltering summer heat.
Nonaste High-Performance Laundry Detergents contain a proprietary scientific formula that eradicates nasty odors, oil, grime, and bacteria – even residue left from other detergents – from activewear. Traditional detergents can't get all the grime and odor-causing bacteria out of moisture-wicking activewear. Nonaste is economical, requiring just small capful per load, lifts and removes bacteria, oil and grime, leaves a fresh, clean scent, and actively restores fabric integrity wash-after-wash to extend the life of activewear.
Nonaste High-Performance Premium Car Seat Protectors are made for active people returning home from a sweaty workout or families coming off a sandy beach with wet swimsuits, and more. The universal-fit, water-resistant two-layer design provides ultimate seat protection and a nonslip sharkskin backing keeps it in place and it easily rolls up like a yoga mat.
Prime Day deals begin on July 8 and continue through July 12 on the following Nonaste products*:
$59.99 – $41.99
25% Off Nonaste Performance Laundry Detergent 2 Pack of 32 fl oz bottles – Zen Fresh, Pure Clean (unscented) or choose both
$32.99 – $23.10 (2-pack)
*While supplies last
Nonaste Co-Founder/CEO Andy Voggenthaler, a lifelong endurance athlete and founder of Race Guards, with a background in product development at GM, Dupont-Teflon, and Hang Ten, has a nose for sport and winning products. "If you have an active lifestyle you know all the gross things that come with it – sweat, funk, dirt, and odor-causing bacteria. Nonaste gets the nasty out with our line of high-performance products so you can be 100% odor free on your next run, workout, or trip to the beach," he says.
Nonaste's products are designed to keep active people clean and range from $10.99 to $59.99, are biodegradable, color safe, and phosphate free, with no animal testing. Nonaste Zen Fresh detergent was ranked "Best Smelling Performance Laundry Detergent" by Gear Patrol.
Nonaste donates 10% of net profits to Challenged Athletes Foundation, helping create opportunities for individuals with physical challenges through critical adaptive sports equipment, coaching, programs, and encouragement to stay active.
Discover Nonaste's complete line of scientifically advanced products to keep active people clean and odor-free: www.Nonaste.com, Instagram, Facebook
###
Media contact:
Hilary McCarthy
774-364-1440