Nix Biosensors Expands Real-Time Hydration Monitoring Platform to Android Devices
April 6, 2023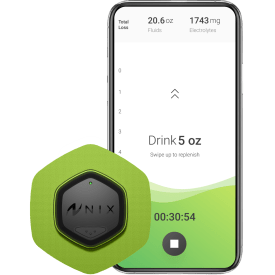 Launched initially on iOS, the native Nix app now provides real-time data on fluid loss, electrolyte loss, sweat composition, and more across Android devices.
BOSTON, MASS. — APRIL 6, 2023  /ENDURANCE SPORTSWIRE/ – Nix, the biosensor company delivering health and wellness data to consumers, completed their largest expansion yet with the release of the Nix app for the Android platform. Nix's Hydration Biosensor, the first-ever device to analyze sweat and provide endurance athletes with personalized hydration data, is now available to a substantially wider community of athletes, delivering its scientifically validated hydration metrics in real time.
Nix's hardware consists of a single-use biosensing patch applied to the upper arm with an associated rechargeable pod that transmits the sweat data from the patch into the Nix app. By adding Android compatibility for Android 12 or higher, Nix is making sweat intelligence available to the entire endurance community who can plan their hydration strategy as they train, race, and push themselves to new levels of athletic performance.
"Android compatibility is essential to our ability to deliver hydration data to as many athletes as possible, particularly in the parts of the world where Android is the dominant operating system in the mobile device market," says Meridith Cass, CEO and Founder of Nix. "We look forward to continuing to announce additions to the Nix portfolio of device compatibility and software integrations in our mission to deliver real-time hydration data to athletes on the devices they're already using."
Earlier this year Nix introduced app integration with Garmin computer devices. Further integrations with more hardware and software brands are forthcoming in 2023.
The Nix Hydration Biosensor is now available for purchase at nixbiosensors.com and select specialty retailers for $129 and comes with one Pod, four Sweat Patches, one Charging Case, and one USB cable. The Sweat Patch Refill ($25) contains four additional patches.
###
About Nix
Nix is changing the way humans manage health by empowering consumers to access, understand, and act on their personal biology in real time. Nix's first consumer product is a sweat patch that provides athletes, soldiers, and laborers with hydration data in real-time, helping them optimize safety and performance. Headquartered in Boston, Mass., Nix is led by Founder and CEO Meridith Cass, a graduate of Harvard Business School, former VC, and 9-time marathoner. Advisors include Tom Fowler, Former President of Polar; Dr. Bob Murray, Founder and former Director of the Gatorade Sports Science Institute, and Tatyana McFadden, the 5x Olympian and 17x Medalist. Learn more at nixbiosensors.com.
​​Media Contact
Mackenzie Lynch
360.319.3833